'Thor: Ragnarok' TV Spot: Who Is The Strongest Avenger?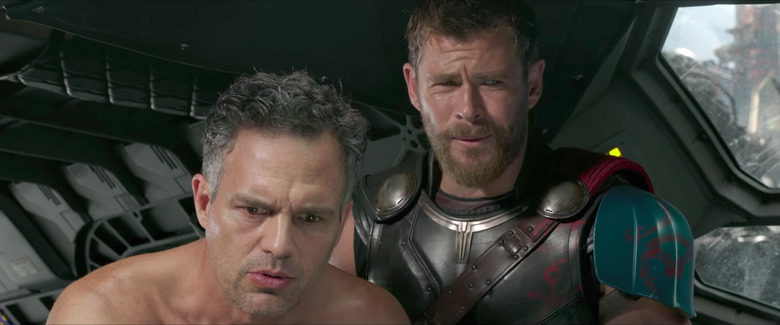 It's fairly common knowledge who the weakest Avenger would be (sorry Hawkeye, I love you!), but have we ever settled the debate of the strongest Avenger?
The latest Thor: Ragnarok TV spot answers that question, and even gives us a glimpse of that highly-anticipated gladiatorial fight between Thor and the Hulk on the planet of Sakaar. Hint: it doesn't look too good for Thor.
You'd think after the events of the first Thor, in which the arrogant Asgardian prince learns the value of humanity and humility, his cockiness would be toned down a few notches. But that wouldn't make for a very funny movie, and a funny movie is what director Taika Waititi (Hunt for the Wilderpeople, What We Do in the Shadows) is trying to make.
From all the previews and trailers we've seen of Thor: Ragnarok, it looks like he's succeeded. Even a fairly "epic" TV spot like the newest one released, which features shots of Thor beating back tons of aliens and generally looking fairly impressive, is undercut by a Quinjet computer system just not knowing who he is.
Watch the Thor Ragnarok TV Spot
Thor may be the "God of Thunder," and the "Prince of Asgard," but far be it for a ship to know who he is. Trying to access the Quinjet — I'm assuming that's what it is — he gets rejected time and again, until best bud and part-time Hulk Bruce Banner (Mark Ruffalo) steps in.
"Let me try. Banner," Bruce says, placing his hand on the scanner. "Welcome, Strongest Avenger," the Quinjet replies. "Uh...what?" Thor says, offended, with Hemsworth making full use of the comedic talents he deployed in Ghostbusters and Saturday Night Live.
Here's the official synopsis for Thor: Ragnarok:
Imprisoned on the other side of the universe, the mighty Thor finds himself in a deadly gladiatorial contest that pits him against the Hulk, his former ally and fellow Avenger. Thor's quest for survival leads him in a race against time to prevent the all-powerful Hela from destroying his home world and the Asgardian civilization.
Thor: Ragnarok is directed by Waititi and written by Eric Pearson. It also stars Cate Blanchett, Tessa Thompson, Tom Hiddleston, Jeff Goldblum, and Idris Elba.
Thor: Ragnarok is set to premiere in theaters on November 3, 2017.