Cool Stuff: The 'Harry Potter' Soundtracks Get A New Vinyl Box Set This Fall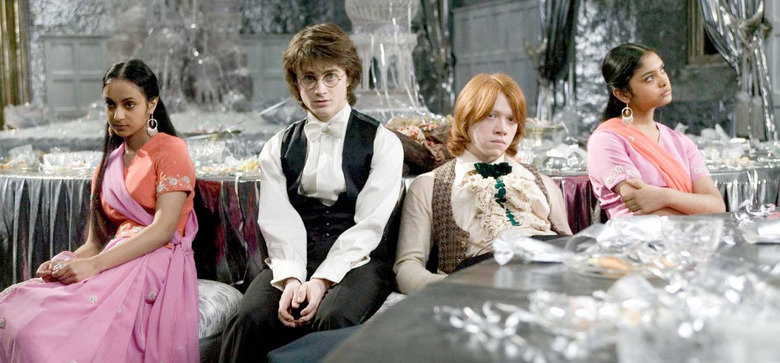 Though vinyl is now enjoying quite a resurgence among music fans as a popular format for listening to music, during most of the time that the Harry Potter franchise was hitting theaters, it was an almost entirely dead form of media. That means most of the soundtracks for each of the movies never got released on vinyl. But that's about to change.
Rhino has announced a new Harry Potter box set that will include the scores from the first five films in the franchise on vinyl for the first time ever. Find out more about the Harry Potter vinyl soundtrack set coming in November.
In an
official press release from Rhino
, they've announced that Harry Potter and the Sorcerer's Stone (2001), Harry Potter and the Chamber of Secrets (2002), Harry Potter and the Prisoner of Azkaban (2004), Harry Potter and the Goblet of Fire (2005), and Harry Potter and the Order of the Phoenix (2007) will each get a 2X LP soundtrack released. Plus, each soundtrack will come with a download card for a digital copy of the scores.
The first three soundtracks feature the scores composed by John Williams, including all the signature themes that run through the entire franchise. Meanwhile, Patrick Doyle composed the score for Harry Potter and the Goblet of Fire, including the wizard rock songs from the Yule Ball performed by Jarvis Cocker and Steve Mackey of Pulp, and Jonny Greenwood and Phil Selway of Radiohead. And finally, Nicholas Hooper created the music for Harry Potter and the Order of the Phoenix.
Unfortunately, there's no images of the box set so far, but Rhino says each soundtrack is contained in a gatefold sleeve that is die-cut on both sides and the images on the picture discs inside are stills taken from the related films. The one exception is Harry Potter and the Order Of The Phoenix, which also features an etching on the last side of the LP.
Though I'm glad all of these soundtracks are finally getting released on vinyl, I wish that there was a box set that has the scores for all eight of the movies in one single set, especially for those of us who haven't bought any of the soundtracks on vinyl yet. Maybe that's coming down the road, but in the meantime, this five-soundtrack collection will arrive on November 17.