'Gambit' Release Date Now Set For 2019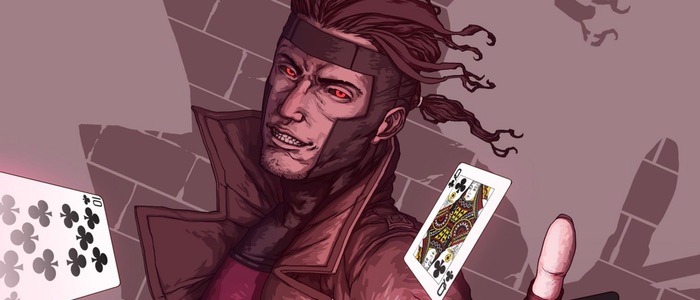 In case you forgot about that Gambit movie, here's a reminder: they're still making it! And now it has a new official release date. The long-delayed X-Men spin-off will now hit theaters in February of 2019. Unless they decide to move it again. Details on the Gambit release date are below.
After several false starts, the Gambit spin-off movie seems to finally be back on track. Recently it was reported that Pirates of the Caribbean director Gore Verbinski was in talks to helm the film after previously attached directors Rupert Wyatt and Doug Liman both departed the project. While Verbinski still hasn't been confirmed yet, a new release date has.
Gambit will now hit theaters February 14, 2019, just in time for Valentine's Day, making Gambit the most romantic X-Men spin-off of all. Of course, it's worth nothing that Gambit has had other release dates before. The film has been in some stage of development since at least 2007, when it was expected to spin-off from X-Men Origins: Wolverine, where Gambit was played by Taylor Kitsch. Perhaps realizing Kitsch wasn't the person to lead a big new spin-off, 20th Century Fox eventually enticed Magic Mike's Channing Tatum into the title role. Tatum in turn went to filmmakers like Bennett Miller, Darren Aronofsky, Gareth Evans, and J.C. Chandor, with the hopes of landing one of them to helm the film, but none wanted the job.
Rise of the Planet of the Apes director Rupert Wyatt was unable to deliver the film that 20th Century Fox wanted, and he walked. After Wyatt bailed, The Bourne Identity filmmaker Doug Liman took the job, but he, too, departed due to behind-the-scenes issues, later saying:
"I look for a personal connection to the movies I make and it may not be immediately obvious. You know, like what's my connection to Jason Bourne? I have a deeply personal connection to that movie because it's all about Iran-Contra and my father ran the investigations into Iran-Contra. In every story I have a personal connection. The Wall, you'd be like what could this filmmaker from New York possibly have in common with these two soldiers pinned down in Iraq? But The Wall is really about perseverance. It's about picking yourself up and you just keep going and that's something I have firsthand experience with. Not in war but in other aspects of life. With Gambit, I just never found that personal way in. Sometimes it happens, sometimes it doesn't."
Gambit was originally planned for a October 7, 2016 release date, but the behind the scenes issues with ever-changing filmmakers obviously delayed that. Now the project seems to be picking up steam again. The new release date hints that Verbinski, or at least someone, is very close to signing on to helm the film. Of course, there's always a chance whomever is hired to direct will also walk, and the date will be changed once more, and this whole dance will start up all over again.