'The Florida Project,' 'Escape From Tomorrow' And The Agreed-Upon Lie Of Disney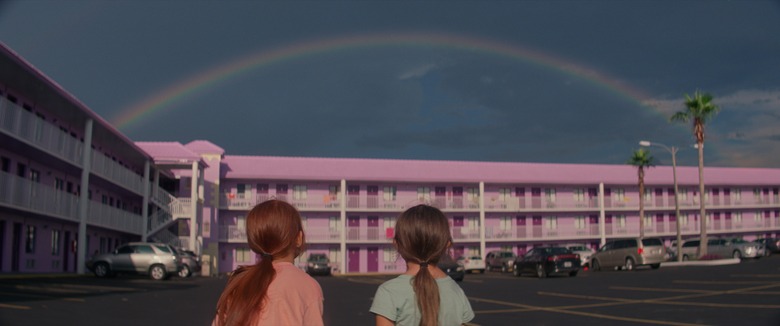 (Welcome to The Disney Discourse, a recurring feature where Josh Spiegel discusses the latest in Disney news. He goes deep on everything from the animated classics to the theme parks to live-action franchises. In this edition: a look at Escape From Tomorrow and the newly released The Florida Project, both of which explore the peripheries of the Disney experience.)
The Disney theme parks are built upon a foundation of agreed-upon lies. We tell ourselves that we can afford a trip to the Happiest Place on Earth even if we should spend that money on more reasonable expenses, because we value our enjoyment or the enjoyment of our family members more than the strength of our bank accounts. We tell ourselves when we walk through the gates of the Magic Kingdom that we've been transported into a world of fantasy and future, a land where our real-world problems don't exist. We tell ourselves that the theme parks are a place where the Cast Members who operate the attractions, shows, and restaurants have no real-world problems — really, no outside lives — of their own. Each winding walkway, each touch of atmosphere, each architectural choice is, in its own special way, a lie. They are mostly beautiful lies, but lies nonetheless.
The beautiful lies of the Disney theme parks, and how those lies have an uglier ripple effect towards the periphery of the cities that house them, are part of the fuel behind two independent, tonally very different, films from the past few years: Randy Moore's Escape from Tomorrow and Sean Baker's The Florida Project. Each film deals with the specter of the Disney theme parks in its own way. Moore's 2013 film built buzz because he and his cast had shot a majority of the Lynchian film inside the parks without Disney's knowledge. Baker's is focused on the fraying edges of the community that borders Walt Disney World. Despite being radically different, the directors each attempt to confront the parks and their impacts through these stories.
This article features major spoilers for Escape From Tomorrow and minor spoilers for The Florida Project.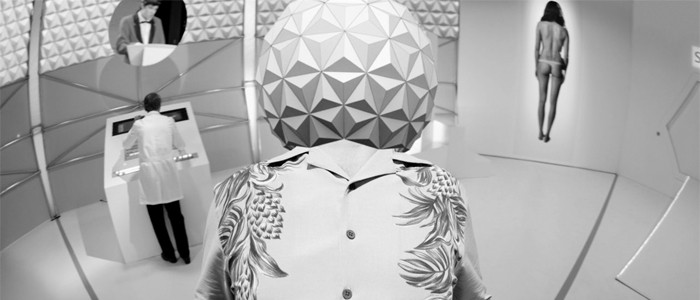 A Fantastical Escape
Walking through the Disney parks, especially over the last decade with the exceeding popularity of smartphones, it's hard not to see people filming something. The refracted reality of the parks is refracted further so people can make vacation home-movies, or so someone can post to YouTube a walkthrough of an on-property hotel or a ride. Disney, as you can imagine, would not want its intellectual property repurposed for financial gain, but its security teams also can't tell people to stop filming a ride with their iPhone or to stop taking long shots of the Disney castles with their Canon camera. That dilemma is one reason why Escape from Tomorrow is able to exist, as jaw-dropping as its premiere was back at the 2013 Sundance Film Festival.
Moore's film is decidedly family-unfriendly, depicting the final day of a family vacation that starts out shaky and ends violently. In the 90-minute film, there's sex, drugs, a kidnapping, and an underground laboratory beneath Epcot's Spaceship Earth, because why not. Upon its initial premiere, it was easy for journalists, critics, and industry types to move past the film's quality and just ask the same questions: how did this movie exist? Moreover, would Disney ever let it see the light of day?
At first, there was a lot of understandable doubt regarding the latter question. The film's music was deliberately meant to echo Disney tunes, without actually using the themes to any popular attractions to avoid any easy legal suits. (Among other attractions, the characters experience It's A Small World or Soarin', so the film's composer, Abel Korzeniowski, created approximations of what might play on such rides.) In spite of whatever legitimate claims Disney could make against the film, there was also the assumption that if the corporation did push back against the shoestring-budgeted picture, it would be like Goliath trying to stomp on David. Why attack a film made with no name actors, no name director, no serious cash flow, etc.?
So, for whatever internal reasons, Disney's response to the film was essentially nothing, which might have been the smartest choice. In the fall of 2013, Escape from Tomorrow was released into a handful of theaters as well as video on demand, to very little fanfare. (It was seen as notable that the film's producer released VOD revenues, but those numbers were pretty minor, considering the original buzz.) The film didn't make that much money on either platform, and it hasn't translated to anything tangible for Moore or its lead actor, Roy Abramsohn. If anything, by ignoring the movie, Disney helped it fade from people's memories.
A Movie That Shouldn't Exist
I'll be up-front with my own reaction: the first time around, I was genuinely floored at how this movie had to have been made. There are very noticeable green-screen effects at certain points, and one scene shot on a soundstage that takes place in that nefarious lab underneath Spaceship Earth. However, it's clear that a lot of Escape from Tomorrow was very obviously filmed at the Disney theme parks. The very nature of these scenes, especially since they rely so heavily on a "normal"-looking family of four, is somewhat remarkable. Watching the film again four years later, removed from the often-ebullient festival circuit (I saw it at Fantastic Fest 2013), and removed from the initial shock of its production, I realized that I was far too kind the first time around in looking past its many other weak elements.
The premise of Escape from Tomorrow is clever enough. A suburbanite dad, on the last day of his vacation at Disney, finds out that he's been fired and proceeds to have an increasingly insane day at the parks where he lusts after two French teenagers, runs afoul of mysterious figures, and begins hallucinating (or genuinely experiencing) sexual encounters and drug-fueled fantasias. The film, in effect, wants to warp every happy, family-friendly element of the parks in a most R-rated fashion. Disney princesses? Maybe they're prostituted out to foreign businessmen. Exciting roller coasters? What if their dips and turns can cause someone to be decapitated? And so on.
The film, however, just has that one note to play: what if Walt Disney World wasn't as pleasant as it seemed on the surface? Abramsohn has a decent charisma, but the script doesn't always do him favors, even in the more "normal" scenes. To wit: at one point, his character Jim is riding the Tomorrowland Transit Authority (AKA the PeopleMover) with his young son Elliott, who coincidentally mentions the two French teenagers Jim desires. Elliott says the young women are pretty, then he asks Jim if his mom (Jim's wife) is pretty. Jim says "Yes," but rolls his eyes snidely as he answers, then compares her to Emily Dickinson. The line comes back to bite him in the ass later, and while that gag works — he pleads to his displeased wife "I like Emily Dickinson!" — the setup feels unexpectedly nasty.
This kind of Blue Velvet take on Disney isn't out of reach or inappropriate. There's a good story to tell about the flip side of Disney's lighter tones. But pushing it to the opposite extreme only works in concept, not in execution. By the end, Jim succumbs to the inexplicably named "cat flu," dying after puking up multiple hairballs in the bathroom of his hotel room at the Contemporary Resort. His wife grieves, his kids don't seem to be that affected, and then we see a duplicate version of Jim with a different wife (one of the women he's fantasized about) and child entering the parks. The intentional confusion and meaninglessness of this ending is arguably meant to emphasize the surrealism of Walt Disney World, where anyone can pretend to be something they're not as long as someone else buys into the lie. That very concept is shrewd enough, but Escape from Tomorrow's cleverness starts and finishes with its concept, struggling with the execution.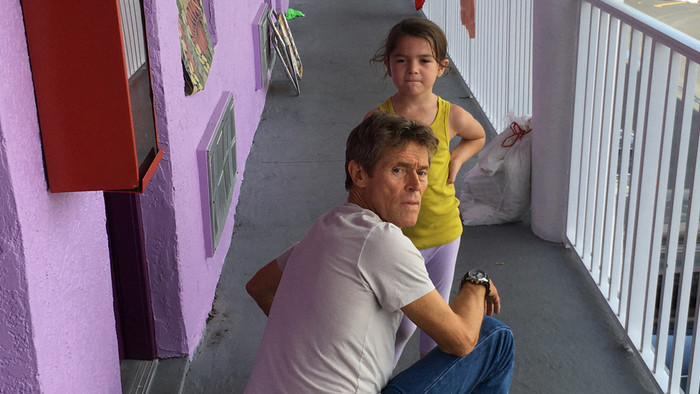 Buying Into the Lie
Buying into the lie is at the core of The Florida Project, a title that might raise interest among theme-park aficionados because of its relevance to Disney. (Before Walt Disney passed away, he announced "the Florida project" to the world, referring to the 43-square-mile stretch of land he had purchased in Orlando that would one day become Walt Disney World.) But the story, written by director Sean Baker and Chris Bergoch, is not about a vacation gone wrong or the idyll of spending time with Mickey and Minnie. Instead, it focuses on a young single mother and her 6-year old daughter, members of the so-called "hidden homeless" in Orlando and nearby Kissimmee. People like Halley (newcomer Bria Vinaite) and her 6-year old child Moonee (another newcomer, Brooklynn Prince) live day to day and week to week, in shabby-looking motels that once tried to replicate the Disney parks' style to lure in unsuspecting tourists. So Halley and Moonee live in the Magic Castle, located on the outskirts of the Magic Kingdom, and one of Moonee's friends lives in the Futureland motel next door. And so on.
Moonee tries to act older than she is, gleefully cursing at adults with heedless abandon, but throughout the slice-of-life story, all she really wants is to have as fun a summer as possible. She's blissfully unaware about her low-income circumstances, or at least unwilling to acknowledge those circumstances and let them get her down. Halley scrounges for cash, having lost her job as a stripper before the film begins and resorting to reselling wholesale perfume, swindling people out of theme-park tickets, and prostituting herself in her own room. Moonee is simply content to run around the marshy swamplands of Central Florida, slyly getting a few dollars to buy an ice cream cone, and spitting on nearby cars with a group of friends in similarly shaky situations.
Where Escape from Tomorrow largely treats its characters with contempt (the adults at least, as the two children mostly are used as props to further the slim story), The Florida Project bursts at the seams with empathy. Anyone familiar with Baker's previous film, the wonderful 2015 drama Tangerine, would be unsurprised to learn that he's turned a fittingly kindly eye to the lower rungs of the social strata of Central Florida. Another movie might treat Halley as a more pitiable figure, or Moonee as someone whose naïveté is mawkish. Another movie might treat paternalistic hotel manager Bobby (Willem Dafoe) as a possible savior, someone to help rescue the two women out of their dire straits, or someone who might plot to get them out of his motel for the trouble they heap upon him.
Not Baker or Bergoch. Bobby, whose own complex home life is hinted at during a couple brief visits by his son (Caleb Landry Jones), just wants to run the Magic Castle as best he can with as little trouble as possible. He's willing to tolerate Halley and Moonee, especially the little girl, because he's gifted (or cursed) with a kind heart. His willingness to help can only extend so far. (One of Dafoe's best, most complex scenes is when Bobby confronts a likely pedophile at the motel, starting out friendly and ending with a level of rage that befits the actor's past intense work.) And Halley's ability to provide (or want to provide) a decent home for herself and her daughter can similarly only extend so far.
On the Sidelines of Walt Disney World
Escape from Tomorrow, for its flaws, is known primarily because it filmed on Disney property. However, the majority of The Florida Project stays squarely on the sidelines of Walt Disney World. In one early shot, Bobby stands in the hallway of his hotel, leaning against the railing and smoking a cigarette, as the indiscriminate booming of fireworks pops on the soundtrack. Later, Moonee and one of her friends, along with Halley, celebrate the friend's birthday in a nearby grassy field to watch another evening edition of fireworks from the Magic Kingdom. Baker did not pull any tricks like Moore did, essentially smuggling in his crew and cast to stand against the themed lands of Disney for a warped morality play. Baker, unlike Moore, is a lot more careful in choosing how and when to film at the parks. The less it happens, the more powerful the parks' presence are. There's only one scene — really, a single handheld tracking shot — at the parks, and its emotional impact can't be understated. You have to see it for yourself.
The agreed-upon lie at the core of The Florida Project is perhaps the greatest lie any out-of-state vacationer tells themselves (possibly unconsciously) when they travel to the Magic Kingdom. The world outside doesn't matter when you're enveloped in fantasy. Whoever works at the Magic Kingdom doesn't have a life outside, responsibilities, families, bills, etc. The Florida Project, without ever becoming preachy, emphasizes how shaky that lie is as soon as you look beyond the berm of the Magic Kingdom or the other theme parks. It's the same shakiness that cropped up when Hurricane Irma hit and vacationers appeared to prioritize their desire to spend time in the parks, instead of admitting that Cast Members might also be Central Florida residents in tenuous circumstances should the hurricane destroy their houses. The lives of Cast Members, and would-be Cast Members (Halley mentions that being hired at the parks would be a no-go for her), and their families get ignored by Disney's guests, because noticing them would be too complex during a family vacation.
Nothing quite so disastrous as a hurricane happens in the heartbreaking finale of The Florida Project, which cements its status as one of the best films of the year. However, as is the case in Escape from Tomorrow, the cold cruelty of reality collides with a runaway fantasy. The former film, in general a very matter-of-fact story and one that is as oddly beautiful and alluring to look at as the iPhone-shot Tangerine did, does not shy away from the natural conclusion to a story where Halley lets Moonee run rampant around Kissimmee. There is but a vision of rescue, of going to Cinderella's Castle in the hopes of finding a wish that will become a dream come true. The finale, like the rest of The Florida Project and Escape from Tomorrow, depicts another desperate agreed-upon lie. The truth would just hurt too much.