'Thor: Ragnarok' To Ragna-Rock The Autumn Box Office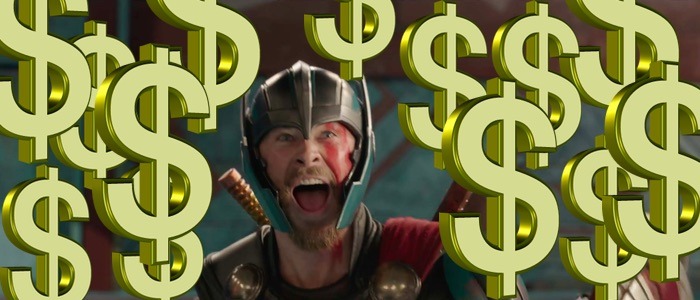 Who will rescue the less-than-stellar 2017 box office? Why, Thor: Ragnarok! The early tracking on the next Marvel movie is promising, hinting at yet another blockbuster notch in the MCU belt. Soon, a less-than-ideal October at the box office will be remedied once November rolls around. Get all your Thor: Ragnarok box office details below.
Despite being a thrilling, mind-blowing, borderline masterpiece, Blade Runner 2049 has performed rather poorly at the box office this month. Perhaps audiences just weren't ready for Denis Villeneuve's R-rated sci-fi tone poem, which is now destined for the same fate as the original Blade Runner: an under-seen gem that audiences rediscover and heartily in a few years. Blade Runner 2049 was the first big release of the fall, and it's lackluster box office intake sets a bad precedent for the autumn to come.
But all is not lost, as far as box office returns are concerned. Marvel's latest license to print money, Thor: Ragnarok, is tracking quite nicely. Deadline reports that the third entry in the Thor series is expected to open with $100M-$110M and that the film has "strength among the four quadrants: Very strong with families, Hispanics and African Americans. Thor: Ragnarok in tracking has an enormous 85% in total awareness, 29% in unaided (those polled say it's a movie they want to see without being prompted on the title, that number is huge), 61% definite interest, and 24% first choice." That's a lot of industry jargon that basically says the film is going to be big. Gabby Hayes big, even!
If those opening projections are correct, they would be a big leg up from the previous Thor film, Thor: The Dark World, which opened in November 2013 with $85.7M. The only other Marvel movie to open in November, Doctor Strange, took in $85M opening weekend. Ragnarok looks like it will outperform both previous Marvel November releases. It helps that the new Thor film looks like it's going to be a lot of fun, and Odin knows we could all use some levity right now. Director Taika Waititi has brought a Jack Kirby-inspired colorfulness to the Thor franchise and mixed it with a comedic sensibility. Early reactions to the film call it "one of the funniest Marvel Studio movies thus far" and "definitely the best Thor film." Here is the official Thor: Ragnarok synopsis:
Imprisoned on the other side of the universe, the mighty Thor finds himself in a deadly gladiatorial contest that pits him against the Hulk, his former ally and fellow Avenger. Thor's quest for survival leads him in a race against time to prevent the all-powerful Hela from destroying his home world and the Asgardian civilization.
Thor: Ragnarok opens November 3, 2017. Go feed it your money.