WTF: Tyler Perry Will Play Colin Powell In Dick Cheney Biopic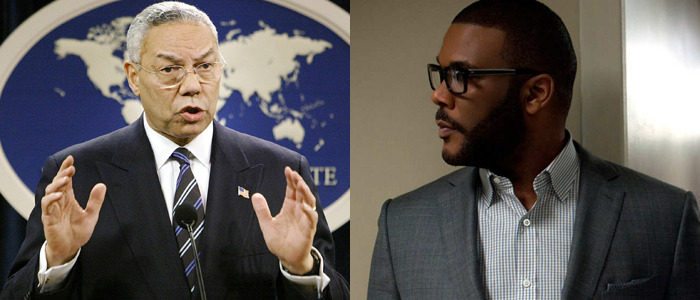 Adam McKay is best known for directing comedies like Anchorman and Step Brothers, but he's also proven to be one of the most politically-conscious mainstream filmmakers working today. His next project is a biopic about former Vice President Dick Cheney that stars Christian Bale in the lead role, but McKay has just hired a surprising choice to play one of the key cabinet members of the Bush administration: Tyler Perry (Boo 2! A Madea Halloween) will play former Secretary of State Colin Powell. Yes, seriously.
Read more about the Tyler Perry Colin Powell casting below.
Deadline first reported the news about Perry joining the movie, which is already in production. He'll play Powell, so far the only black man to serve on the Joint Chiefs of Staff and the first black Secretary of State under President George W. Bush from 2001-2005. Powell had a major influence on the U.S. invading Iraq based on what turned out to be false intelligence about Iraqi dictator Saddam Hussein possessing weapons of mass destruction.
Perry has earned critical ire for his Madea movies, but audiences obviously love them. It's one of the franchises with the biggest Rotten Tomatoes disparities – often there are more than 30 percentage points separating the critical and audience reactions when you look at the films in that series. (Example: 2013's A Madea Christmas has an 18% from critics, but a 70% from audiences.) No one can deny that Perry has formed his own entertainment empire – he built his own studio in Atlanta and has produced lots of TV shows – but his acting in his own movies hasn't exactly put him on top of anyone's casting wish lists.
Still, Perry has a few notable appearances outside of his own cinematic offerings. He played Starfleet Academy's Admiral Barnett in J.J. Abrams' 2009 Star Trek reboot movie, inherited the title role of Alex Cross from Morgan Freeman in 2012, and gave his best performance yet in 2014's Gone Girl for director David Fincher. I'm guessing McKay cast Perry in large part because of his work in Gone Girl since he plays a no-nonsense lawyer in that movie and he'll play a no-nonsense former general in McKay's film, so I'll be interested to see how well Perry fits in with another ensemble cast of A-listers. Bale plays Cheney, Amy Adams will play Cheney's wife, Sam Rockwell is playing George W. Bush (!), and Steve Carell is playing Donald Rumsfeld.