'Thoroughbreds' Trailer: Anya Taylor-Joy And Olivia Cooke Are Good Girls Gone Bad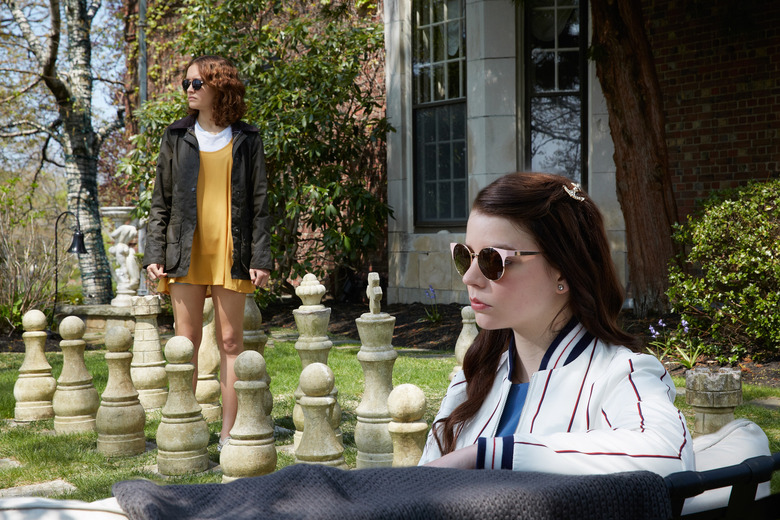 Two indie It girls are teaming up in the frenzied trailer for Thoroughbreds, a black comedy about wealthy childhood friends with killer instincts.
Starring The Witch and Split's Anya Taylor-Joy and Me and Earl and The Dying Girl's Olivia Cooke, Thoroughbreds also features a posthumous turn by Anton Yelchin as the local hustler who unwittingly gets dragged into the conniving girls' schemes.
Thoroughbreds Trailer
"Good breeding goes bad," the trailer boldly declares as it quickly cycles through visceral imagery of guns and affluence while Taylor-Joy's Lily and Cooke's Amanda plot, deceive, and offer a "business proposition" to Yelchin's Tim.
Taylor-Joy and Cooke do their darndest to channel Sarah Michelle Gellar in Cruel Intentions, donning Lolita glasses and matching dark locks, and essentially embodying the archetype of the kawaii killer. The object of their murderous intentions: Lily's oppressive stepfather (Paul Sparks). The movie looks witty and sardonic, the perfect formula for anyone looking for a chaser after the Heathers TV reboot.
Here's the official synopsis for Thoroughbreds:
Childhood friends Lily and Amanda reconnect in suburban Connecticut after years of growing apart. Lily has turned into a polished, upper-class teenager, with a fancy boarding school on her transcript and a coveted internship on her resume; Amanda has developed a sharp wit and her own particular attitude, but all in the process of becoming a social outcast. Though they initially seem completely at odds, the pair bond over Lily's contempt for her oppressive stepfather, Mark, and as their friendship grows, they begin to bring out one another's most destructive tendencies. Their ambitions lead them to hire a local hustler, Tim, and take matters into their own hands to set their lives straight.
The darkly satirical film, helmed by first-time writer-director Cory Finley, made its world premiere at the Sundance Film Festival in January this year, and received a warm welcome when it played at Fantastic Fest. BirthMoviesDeath called it a "worthwhile and delightfully misanthropic" portrait of teenage sociopathy, while The A.V. Club calls it "superbly unpredictable" and "a razor-witted black comedy." Thoroughbreds is one of Yelchin's final posthumous roles, and though he's mostly present to support Taylor-Joy and Cooke, The Hollywood Reporter notes that he "impresses" in a "self-effacing performance."
Thoroughbreds is slated to premiere in select theaters on March 9, 2018.