'13 Reasons Why' Season 2 Filming Halted Due To Forest Fires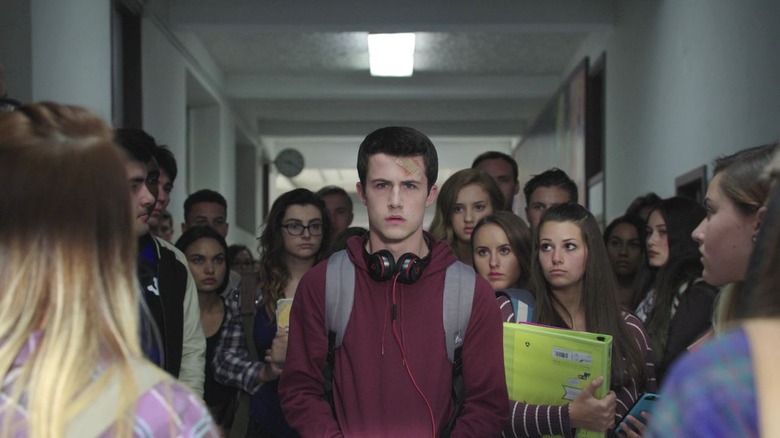 Hannah's story may not over, but it may be delayed for a little while longer.
The production of 13 Reasons Why season 2 has temporarily been halted, due to the forest fires ravaging the Northern California location where the Netflix series is shooting. You don't need more reasons than that.
Deadline reported on Tuesday that Netflix series would be taking an "unplanned hiatus," until at least Sunday due to the wildfires. The hiatus was going to extend through Wednesday, and with Friday and Saturday already planned as days off for the show, the producers decided to resume filming Sunday.
Many of the cast and crew members live in fire zones while filming, according to Deadline, so they had to be flown away for the break. The fires have cut a swath of 100,000 acres through Sonoma and Napa counties, resulting in the deaths of at least 21 people, according to the LA Times. 13 Reasons Why films in the Vallejo area, just south of Sonoma and Napa, in Solano County.
Some of the 13 Reasons Why stars including Dylan Minnette and Devin Druid, who play Clay Jensen and Tyler Down, respectively, have been tweeting about the fires and calling for people to help (via MovieFone).
We film 13 Reasons Why in many of the areas in NorCal affected by these devastating fires. Sending love and thoughts to everyone involved.

— Dylan Minnette (@dylanminnette) October 10, 2017
Here is some info on how to help/get help in Northern California: https://t.co/Gp6bEISuQM

— Dylan Minnette (@dylanminnette) October 10, 2017
The second season will reportedly take place a few months after the events of season 1, with the characters reeling from the revelations on Hannah's tapes. Season 2 will include multiple timelines and a voice-over, though this time it won't be Katherine Langford's Hannah Baker who will be doing the narrating. Showrunner Bryan Yorkey has been planning the broad strokes of season 2 ever since he wrapped the first season, which is where Jay Asher's book ended:
We really have characters who, after 13 episodes, are just beginning the process of recovery and the process of coming to terms with what part they might've played in Hannah's death and how Hannah's death will change their lives going forward. I think that there is so much that's fascinating about the way we grieve, the way we recover, the way we learn to take better care of each other. I have heard from a number of people, "Well we heard all her tapes so her story is done." That's leaving aside the fact that for every tape there's another person who has a story, which is the person Hannah mentions on her tape. We saw Hannah's version of events unfold, but there's a lot more to be told also about those characters.
13 Reasons Why season 2 is slated to have 13 episodes and will arrive on Netflix sometime in 2018.