'Thor: Ragnarok' Clip: Watch Director Taika Waititi Play A Giant Rock Monster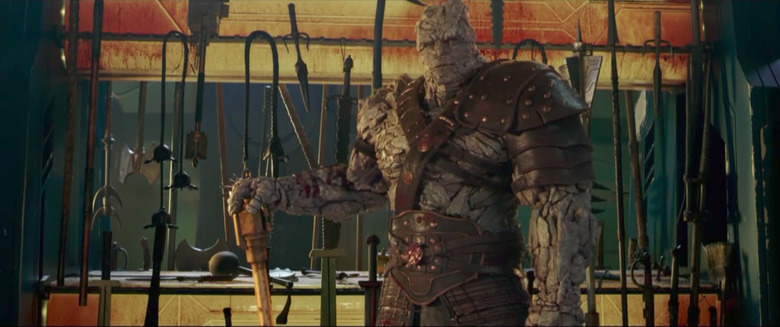 Before he was an acclaimed film director and fashion icon, Taika Waititi was an actor. And getting behind the camera doesn't mean he's lost the acting bug.
The director of Thor: Ragnarok has made an appearance in all of the films he's directed, and far be it for him to pass up a chance to star in a superhero blockbuster. In a new Thor: Ragnarok clip previewed by star Chris Hemsworth on Jimmy Kimmel Live — during which Hemsworth, Waititi, and co-star Mark Ruffalo also participated in a fun Matt Damon-centric bit — we finally get introduced to Waititi's character.
Thor Ragnarok Clip
In the brief clip, Thor humbly brags about his destroyed hammer as he shops for weapons on the Planet Sakaar. The character he's bantering with, Korg, is played by Waititi in motion-capture, with Waititi's natural Kiwi accent on full display.
As Korg gets confused about whether Thor rode the hammer or the hammer rode him, he suddenly makes a sharply perceptive observation about Thor's loss, basically kicking him while he's down, saying, "Sounds like you had a pretty and special relationship with this hammer, and that losing it was almost comparable to losing a loved one."
"That's a nice way of putting it," a deflated Thor responds.
In Ethan Anderton's interview with Taika Waititi on the set of Thor: Ragnarok, Waititi spoke about playing Korg, who is a character from the Planet Hulk comics:
I'm playing one of the Planet Hulk characters named Korg, who's a Kronan. He's a bit bigger than me, so that's all mocap. For me it's really fun. Often I'll jump in [for other mocap stuff]. Mark [Ruffalo] is no longer here so I'll jump in for Hulk's stuff. We have stand-ins, but they're not actors, and they don't have timing and stuff. So I'll jump in for those things every now and then. I did Surtur as well, but he'll probably be voiced by someone else.
While motion-capture sounds like a tedious technical process, it still allowed for Waititi and Hemsworth to improvise most of the scene, Hemsworth revealed. The heavily improvised dialogue fits in with the lighter and zanier tone of the entire movie, which early reviews are raving is the most fun you can have at a Marvel movie. And if Korg's brief scene is anything to go by, I completely believe that.
When Peter Sciretta visited the Marvel Studios offices earlier this year, he watched a clip of Korg in action and learned about the character's hilarious origins:
In the film, Korg befriends Thor and welcomes the God of Thunder to the planet Sakaar, explaining how society on the planet operates. We were shown a scene featuring Thor's first meeting with Korg. While the Kronan looks physically intimidating, he is super helpful and overly friendly. Waititi's comic timing is brilliant, and if you've seen his roles in his previous films, then you have an idea of what to expect. Waititi explained that Korg is modeled after Polynesian nightclub bouncers at who are the biggest people in town, but have the lightest and most delicate voices: "They are very endearing, but you don't want to fuck with them."
Here's the Thor: Ragnarok synopsis:
Imprisoned on the other side of the universe, the mighty Thor finds himself in a deadly gladiatorial contest that pits him against the Hulk, his former ally and fellow Avenger. Thor's quest for survival leads him in a race against time to prevent the all-powerful Hela from destroying his home world 

and the Asgardian civilization.
Thor: Ragnarok is set to hit theaters on November 3, 2017.