LOL: Watch Matt Damon Crash Chris Hemsworth's 'Thor: Ragnarok' Interview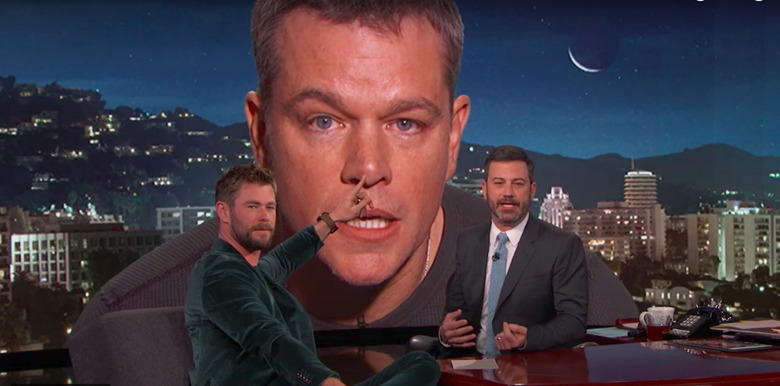 Matt Damon has stayed far from the comic book movie genre, but he had his first brush with superheroics after he crashed an interview with the God of Thunder himself.Chris Hemsworth was promoting the upcoming Thor: Ragnarok on Jimmy Kimmel Live, and naturally, Damon had to hop in on an interview with his favorite talk show host. Or rather, his favorite talk show host who keeps him trapped in a green room backstage. It's another great moment for the books in the ongoing "feud" between Kimmel and Damon.
Hemsworth was dishing on the close relationships he formed with fellow Avenger Mark Ruffalo and director Taika Waititi over the course of filming Thor: Ragnarok to Jimmy Kimmel, even bringing the pair of them along for the interview. As we cut to a Ruffalo and fashion icon Waititi (wearing the purple suit of my dreams) backstage, a famous face keeps trying to sneak into the shot. Yes, that's a slightly crazed Matt Damon insisting that he's "on the show."
Matt Damon Crashes Chris Hemsworth Interview
The bit continues for another minute, with Damon attempting to join Ruffalo and Waititi as Kimmel interviews them, but the camera keeps panning away. "It's the Mighty Thor, not the Mighty Boor!" Kimmel yells at Damon.
After Kimmel cuts back to him and Hemsworth, all goes smoothly for a bit until Damon "hacks" into the background screen. "I've been here for a really long time Jimmy," Damon says. "Decades. I've learned a lot of stuff."
It's part of a long-running bit between Kimmel and Damon, which started after Kimmel constantly ended his shows apologizing for not having enough time to interview Matt Damon. It escalated from there, to hysterical song disses in which Damon enlisted best bud Ben Affleck, to star-studded sketches. However, this whole bit could very well be a reference to a certain gag in Thor: Ragnarok.
Consider this your potential Thor: Ragnarok spoiler warning.
This gatecrash lends credence to rumors that Damon has a cameo in Thor: Ragnarok. It has been reported that he plays an Asgardian actor playing Loki in a re-enactment of the events of the first Thor. With this fun bit — and the revelation that Hemsworth and Damon go on vacations together — this rumor could be totally plausible. Plus, it would continue Damon's streak of making unexpected space-age cameos.
Thor: Ragnarok hits theaters on November 2, 2017.