How Disney Decides 'Star Wars' Spoilers, And More Details On The Porgs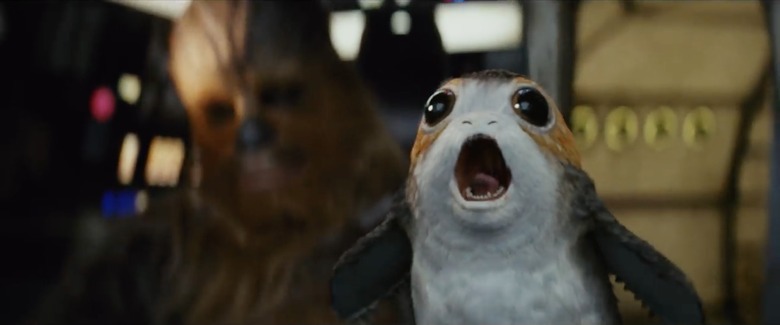 The very exciting new trailer for Star Wars: The Last Jedi took the internet by storm last night, thrilling some, disappointing others, and giving everyone more of what they really crave: Porgs! While the new trailer gave us some fresh looks at the new film, much of what happens in The Last Jedi is still shrouded in secrecy. And that's by design. In a new interview, The Last Jedi director Rian Johnson gives thoughts on Star Wars spoilers, working with Carrie Fisher, and of course, Porgs. Get the details on Star Wars spoilers (and Porgs!) below.
Filled with danger and excitement, the new Star Wars: The Last Jedi trailer is all kinds of great. If you weren't already hyped for the next chapter in the new Star Wars saga (and yeah right, we already know you were), this new trailer would certainly seal the deal. What I love most about the new Last Jedi trailer is how well it sets the story up without giving too much away. Playing things close to the vest has become all part of the plan for Disney with their new Star Wars franchise – the details for The Force Awakens were kept under heavy lock and key. In a new interview with Yahoo, The Last Jedi director Rian Johnson talked a bit about what it's like to work in the secret world of Star Wars: 
"A year ago, maybe even more than that, my producer Ram [Bergman] and I sat down with the folks at Lucasfilm and said, 'OK, this is what we're going to reveal here and there, and this stuff we're never going to reveal until the movie comes out.' We came up with a 'no-fly list' of, under no circumstances is this shown or that shown...It is a fascinating process. It's something that for me, just having been a fan my whole life, suddenly being behind the curtain and seeing how it works and seeing how deliberate it is, has been really fascinating."
In the detailed interview, Johnson also talks a bit about working with the late Carrie Fisher, who died last December, making her role as Leia in The Last Jedi one of her very last. Johnson talks about how important the role was for Fisher, and how she understood its iconic implications:
"She was so conscious of the place that Leia had, not just broadly in the culture, but very specifically in terms of girls who grew up watching Star Wars when Leia was the only female hero on the screen...She really wanted to do right by that, drawing the character forward. That was something that she would always be pulling us back to. And for me it was fantastic, because besides all the other benefits of having a fantastic writer like Carrie there by my side while we're making this movie, just having a voice that was like a compass needle that would always pull it back in the right direction of, This is what this character means and this is what we always have to make sure that she's serving, with her strength and also with her weaknesses — showing a fully realized character who is going to be inspiring to the folks who grew up with Leia."
And what of Porgs, the latest adorable creatures to grace the Star Wars universe? The weird sea birds are already causing controversy with individuals who I assume are completely hollow and cold inside, claiming the creatures are just too cute for Star Wars, a universe full of space muppets that apparently has no room for cuteness. Johnson addressed the characters, acknowledging that perhaps they may be a bit too cute, but he loves them anyway. I'm with you, Rian.
Johnson also talked about how the Porgs were inspired by puffins that live on Skellig Michael, the island off the coast of Ireland that serves as the secret location where Luke has been hiding all this time:
"I was like, 'Oh, this is part of the island; we need to find the Star Wars version of this...And then just story-wise — not that they play a big part in the story — but I knew I wanted to find any source of comic relief I could on the island. And so they were very useful in terms of that...It wasn't until we got the actual puppets on set and the whole crew reacted with 'Oh my God, they're adorable!' and also then a few people in the crew were giving them that suspicious side-eye of 'These are cute, but are they too cute?'"...But the overwhelming reaction on set was everybody loved the porgs. And I love 'em, so you know what? I get it if people are a little wary of cuteness in the Star Wars universe, but I personally love them, and I think they have their place in the movie."
Head on over to Yahoo to read the rest of Johnson's interview. Star Wars: The Last Jedi, starring Porgs, opens December 15, 2017.