'Thor: Ragnarok' Is First Of A Three-Part Story Arc For Hulk In The MCU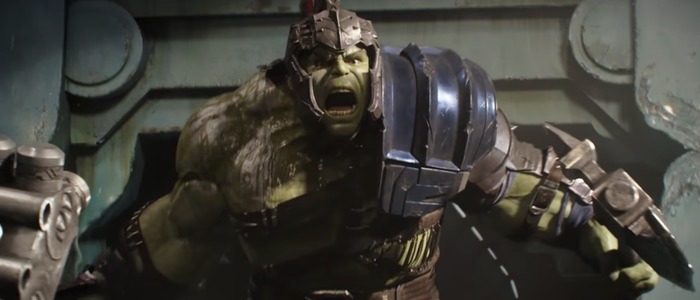 Marvel has had some trouble when it comes to standalone Hulk movies. After striking-out (box office wise, at least) twice with two different Hulk movies, the big green guy finally had his day in The Avengers. Now Hulk is set to appear in Thor: Ragnarok, which will set the character on a three party story arc that will continue over subsequent Marvel films. Get all the info about the new arc involving Hulk in the MCU below!
Hulk fans want more! Ang Lee's Hulk turned the character into a poetic, tragic hero, and audiences scratched their heads. The Incredible Hulk then turned him into Edward Norton, and people were even more confused, but gosh darn it, they still wanted to see more. The Avengers finally did the character justice, thanks, in most part, to Mark Ruffalo's performance as Hulk alter-ego, Bruce Banner. Now, after standing out in Avengers and having one of the best storylines in Avengers: Age of Ultron (that's right, I said it), the Incredible Hulk is about to break out in an even bigger way in the upcoming Thor: Ragnarok.
Hulk's appearance has been a highlight of the Ragnarok trailers, giving the character not just some scene-stealing moments but also an opportunity to finally talk. Some confusing rights issues have kept Marvel from making any new standalone Hulk films, but that doesn't mean the character can't have his time in the spotlight. According to Mark Ruffalo (via Cinema Blend), Thor: Ragnarok kicks off the first of a three-story arc for Hulk which continue into Avengers: Infinity War and beyond, although the details are sketchy:
So basically, Kevin [Feige] pulled me aside before this, and said, 'If you were gonna do a... if we were going to do a standalone Hulk movie, what would it be?' And I said, 'I think it should be this, this, this, and this and this, and ends up like this.' And he's like, 'I love that. Why don't we do that in the next three movies, starting with Thor 3 and then we go into Avengers 3 and 4.' And I was like, 'That sounds great!' And so we are at the beginning of this arc.
For anyone hoping for a little more than "this, this, this, and this," Ruffalo also revealed that Hulk finally speaking in Thor: Ragnarok is a "key part" the proposed three film arc, also adding:
Hulk speaking is the start to separating of these two individuals, these identities in this split-identity person, and where that's going to end up going. So it was really interesting to me. He's like a baby! He's like a five year old or six year old. So he has the same syntax, he has the same world view, and so it was fun. It's like Chris [Hemsworth] – we all got to reinvent our characters in this.
You can check out the first part of this proposed Hulk trilogy arc when Thor: Ragnarok opens November 3, 2017.