'Jean-Claude Van Johnson' Teaser: JCVD Welds A Statue Of Himself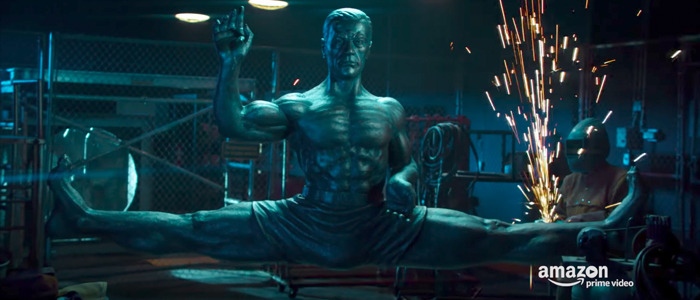 "My name is Jean-Claude Van Damme. I used to be super famous."
These are the opening lines of the pilot for Jean-Claude Van Johnson, an upcoming Amazon original series we exclusively told you about early last year. The pilot performed well enough with viewers to warrant a series order, and the first season is officially on the way.
In the series, the action movie star plays a version of himself who takes jobs in crappy direct-to-video movies in far-flung countries as a cover for his real work as a private contractor. As that line of dialogue above indicates, JCVD is certainly willing to poke fun at his own career (see also: the 2008 movie JCVD), and he continues to do exactly that in this comedy series, which is being helmed by Keanu and Key & Peele director Peter Atencio, one of the most versatile up-and-coming filmmakers working today.
Now a new teaser trailer has debuted for Jean-Claude Van Johnson, and it continues to poke fun at itself as JCVD undercuts the primary subject of the teaser. Check it out below.
Jean-Claude Van Johnson teaser
While that doesn't necessarily give much insight as to what the show itself is actually about, it does capture the tone they're going for, which is to poke fun at Hollywood (and Van Damme himself) from the inside, while producing some exciting fight sequences and thrilling action of their own that will hopefully end up on JCVD's career highlight reel when all is said and done.
There's still no official premiere date listed for this show, but you can watch the pilot episode for free right here if you haven't caught up with it yet. One of the best jokes in the pilot involves Van Damme (or "Van Johnson") starring in an action movie called Huck that's a modern update of Huckleberry Finn written by Max Landis (American Ultra, Bright). It's a nice little dig at the often-ridiculous ideas that make their way through the Hollywood system, but in an interview we conducted with Atencio, he told us he'd actually like to make Huck into a real feature if this show is successful enough. Time will tell, but in the meantime, we're looking forward to the premiere of Jean-Claude Van Johnson, which is promised to be "coming soon" at the end of the teaser.
Jean-Claude Van Johnson stars global martial arts & film sensation Jean-Claude Van Damme playing "Jean-Claude Van Damme", a global martial arts & film sensation, also operating under the simple alias of "Johnson" as the world's best undercover private contractor. Retired for years, a chance encounter with a lost love brings him back to the game. This time, he'll be deadlier than ever. Probably.