'Beyond Skyline' Trailer: A Sequel That Looks Astonishingly Better Than The Original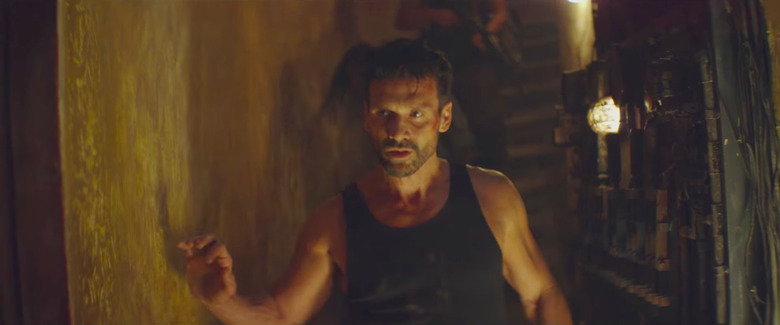 Beyond Skyline sounds like and technically is a sequel, but it looks and acts like an original film.
Taking place concurrently with the events of 2010's Skyline, Beyond Skyline uses the occasion to give the widely forgotten sci-fi film a makeover — thanks to the efforts of buzzy stars Frank Grillo and The Raid and The Raid 2's Iko Uwais.
The Frank Grillo-ssance continues, as the grizzled character actor starts to make a name for himself in underdog genre films like Netflix's Wheelman and the unexpected sequel to the low-budget sci-fi film Skyline, which wasn't that successful to begin with. Grillo and Uwais inject a much-needed dose of adrenaline (and flair) into Beyond Skyline, transforming what sounds like a sci-fi B-movie into what looks like a surprisingly intriguing story.
Beyond Skyline Trailer
Eschewing the claustrophobic premise of the first film in favor of a standard "father rescues his son" story, Beyond Skyline follows grim detective Mark Corley (Grillo) whose son is one of those kidnapped by the aliens invading Earth. Teaming up with Uwais' kick-ass character, who is defending his home against the aliens, Corley decides to risk it all and infiltrate the alien spaceship himself.
This kind of familiar plot may work heavily in the movie's favor and the movie looks like it could be saved from feeling like a straight-to-DVD flick thanks to Grillo and Uwais' no-holds-barred performances. The two of them are really giving it their all when fighting the aliens — which look impressive despite the film's low budget.
Here's the official synopsis for Beyond Skyline:
When the population of Los Angeles is vacuumed off the face of the earth, Detective Mark Corley (Frank Grillo) storms his way onto an alien ship to rescue his estranged son. But after crashing the ship in Southeast Asia, he must forge an alliance with a band of survivors to discover the key to saving his son and taking back the planet once and for all.
Beyond Skyline is set to hit theaters on December 15, 2017.