Harry Potter's Childhood Home In Godric's Hollow Is Now For Sale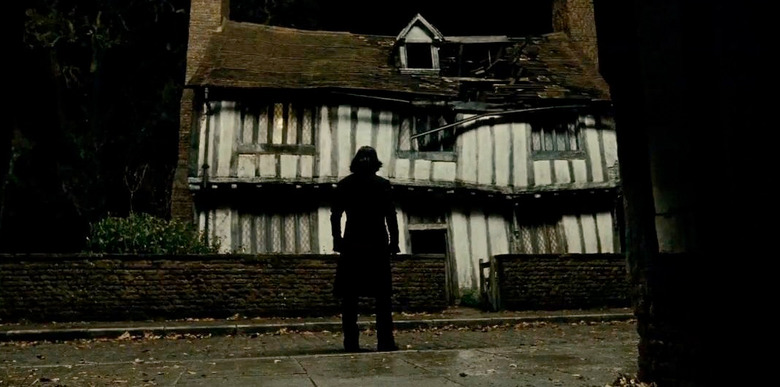 If you ever wanted to grow up to be a wizard like Harry Potter, you can get one step closer by purchasing the house where The Boy Who Lived was raised briefly before his parents were killed by Lord Voldemort.
Before Harry Potter was sent off for safe keeping at 4 Privet Drive with Uncle Vernon, Aunt Petunia and their little Diddy-kins, he was being raised at the home of James and Lily Potter in Godric's Hollow. It's that house, which actually exists just north of London, which is now for sale. So get ready to unload some galleons from Gringotts.
The Harry Potter house for sale can be found in Lavenham, England, and it's actually a 14th century cottage that sits in the middle of a medieval village there. Though the house was made to look destroyed in Harry Potter and the Deathly Hallows Part I, it's in quite good condition.
The house costs £995,000 (or $1.3 million), and that gets you six bedrooms, a reception hall, drawing room, sitting room, sining room, and two kitchens. For all you history buffs who maybe care more about the real world than the wizarding world in Harry Potter, this residence has some real history associated with it. The listing for the house at Carter Jonas (via Entertainment Weekly) says:
The house takes its name from the De Vere family and had previously been known as Oxenford House and Oxford House. In Medieval times the De Vere family were the second richest family after the King and were responsible for creating much of Lavenham's medieval grandeur. They also built Castle Hedingham Castle and an ancestor, Edward de Vere, the 17th Earl of Oxford is widely believed to be the true author of the plays attributed to William Shakespeare. Believed to have originally been built by the 12th Earl, De Vere House was subsequently modified by John De Vere, the 13th Earl of Oxford, and probably provided a hunting lodge.
Maybe if you buy the house you can put up some kind of tribute to Lily and James Potter.