'Creed 2' Will Return Sylvester Stallone To The Director's Chair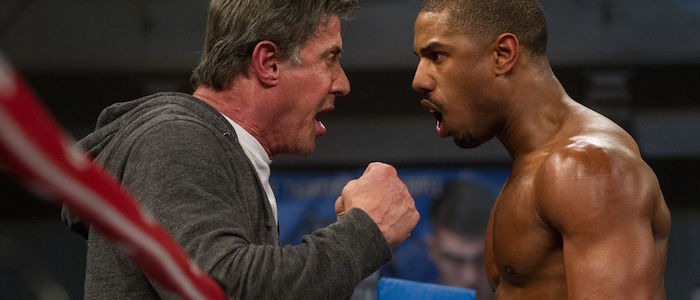 We live in the age of legacy sequels, movies that dust off a dormant franchise and often allow the old cast to hand off the torch to a new generation. Some of these have been magnificent: Star Wars: The Force Awakens, Mad Max: Fury Road, Blade Runner 2049, and, of course, Creed, which spun the Rocky series in an enthralling new direction.
And now, two years after the first film was a box office and critical sensation, Creed 2 has found a director in Sylvester Stallone.
Stallone, who received a well-deserved Academy Award nomination for his stellar work onscreen in Creed, took to Instagram to announce the news that he'd be helming the follow-up. Alongside a picture of him and star Michael B. Jordan, he wrote: "Looking forward to directing and Producing The incredibly talented Michael B Jordan in CREED 2 next year ... One more Round !"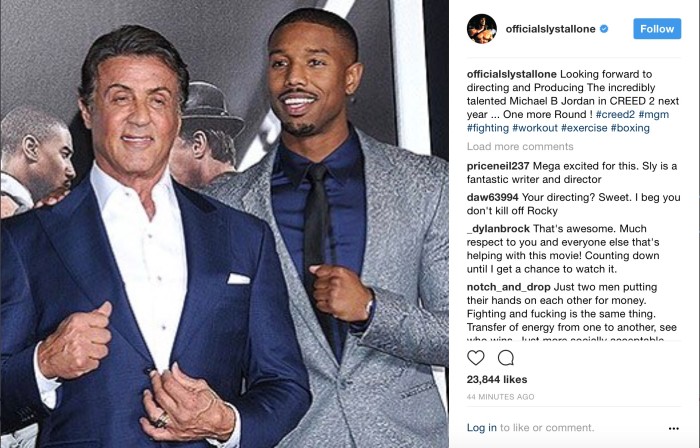 If you're not sure how to take this news...well, you're not alone! On one hand, Stallone has always been a guiding hand in the Rocky movies, the series that transformed him into a movie star. While Stallone did not direct the first film in the series, he did write and star in it, receiving two Oscar nominations for his efforts. He then went on to direct Rocky II, Rocky III, and Rocky IV, which saw the series grow increasingly cartoonish and stray far from the beautiful, humble first movie. However, he found redemption in 2006's Rocky Balboa, a soulful conclusion to the Rocky saga. That is, until Creed came along and brought the Italian Stallion back to the ring to train the son of his long-dead frenemy, Apollo Creed.
And one of the reasons Creed was so fresh, so soulful, and so enthralling was the man behind the camera: Ryan Coogler. With the Fruitvale Station director entering the big leagues with Marvel's Black Panther, his involvement in the Creed sequel always seemed to be up in the air. Now, it's been made clear that Stallone will pick things up where he left off.
On one level, it's lovely to see Stallone get behind the camera again for a series that has defined his career. On the other, Creed was so good because Coogler breathed fresh life into this world and directed Stallone to a career-best performance. What is Creed 2 without Coogler? Is Stallone the right guy for the next chapter in the life of Adonis Creed?
Although we don't know any specific plot details, Stallone has spent the past few months teasing the return of Dolph Lundgren's Ivan Drago, the Russian boxer who killed Apollo Creed in the ring back in the live-action cartoon that is Rocky IV. And with Rocky Balboa himself still battling cancer in the final scenes of Creed, it wouldn't surprise me to see Stallone use this movie to grapple with his own mortality and come to peace with his friends and enemies. And bringing back one of his most famous (if somewhat ludicrous) adversaries could be the kind of cathartic cinematic therapy that will get tears flowing in theaters across the world. Plus, there's that cryptic "one more round," which suggests that this could be the end of the line for Rocky.
Creed 2 doesn't have a release date, but as Stallone indicates in the post above, he's apparently looking to film next year.