Hulu Temporarily Drops Price To $5.99 Per Month To Lure New Subscribers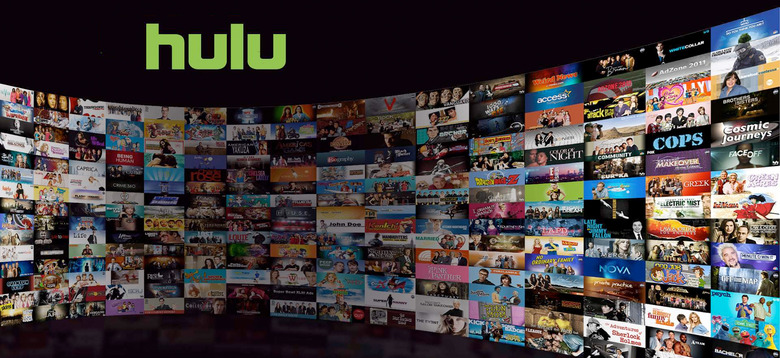 Good news for anyone who may have been on the fence about subscribing to Hulu: in a bid to lure new subscribers, the streaming service has now lowered its base-level service price to $5.99 per month for new and returning subscribers for the first year. Will that be enough to convince you to shell out a few bucks a month to watch The Handmaid's Tale?
Variety has a report about the latest price decrease, which happens to come on the heels of Netflix raising its prices for its mid- and high-tier plans just a few days ago. Hulu claims they're introducing this price drop now to capitalize on the fall TV season, but I have a feeling they're savvy enough to have done this purposefully in the wake of Netflix's announcement just to take an extra little jab at one of its biggest competitors. (Netflix is probably still stinging from Hulu winning an Emmy for Outstanding Drama Series for The Handmaid's Tale, marking the first time a streaming service has brought home that coveted prize.)
Again, Hulu's price drop is only for its entry-level plan, which includes commercials. But if you despise watching advertising, they also offer a $12 monthly plan for a commercial-free tier or a $40 monthly live TV plan that also gives subscribers access to its library of original series. But $5.99 per month is a pretty solid value for the content subscribers will have access to, because Hulu's been busy making some big moves lately. They recently acquired nearly 3,000 episodes of shows like M*A*S*H, NYPD Blue, How I Met Your Mother, Bones, Glee, and more from 20th Century Fox; they're tapping in to the ever-popular '90s nostalgia by bringing classic TGIF shows like Home Improvement and Boy Meets World to their streaming library; they're breaking into the superhero genre with their original Marvel show The Runaways; and they're cresting the wave of positive buzz from It by providing a new Stephen King series called Castle Rock that includes characters and locations from the sprawling multiverse of King's novels and film adaptations.
As Netflix continues to churn out loads of original content, Hulu is still looking to stay competitive in that department – but The Handmaid's Tale is currently their biggest hit. Loading up on beloved programming seems like a smart move in the short term, but that's a temporary fix. They're going to need to step it up to compete in the long run, but in the meantime, this price drop may be enough to get people on board for a year until the $5.99 price reverts to the regular $7.99, and at that point, many people will have either gotten used to using the service regularly or will be too lazy to cancel it. We're approaching a TV subscription tipping point, and one of these days, consumers will have some serious decisions to make about which services they value the most. But until then, the sides are doing whatever they can to build loyalty early so they'll have their own armies in the great streaming wars to come.