'Bill And Ted 3' Gets An Appropriately Rockin' Title: 'Bill And Ted Face The Music'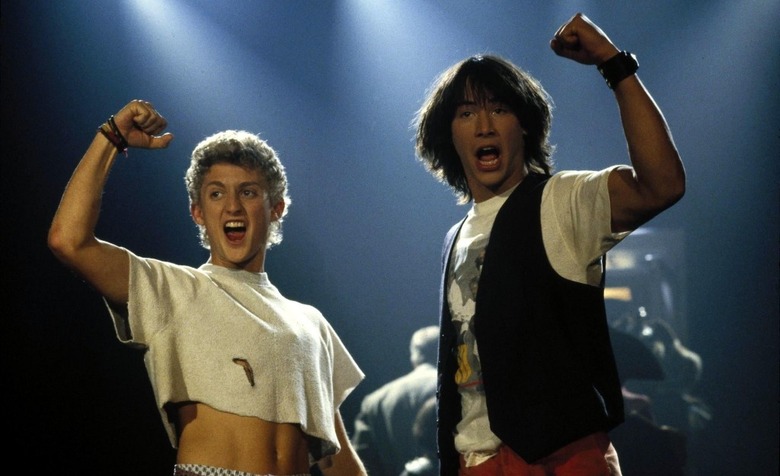 Keanu Reeves has been talking about making Bill and Ted 3 for almost 10 years now, and it seems like every few months, the project inches its way a bit closer to production. Now it's perhaps the closest yet, because Reeves revealed at NYCC that the long-brewing movie has an actual title, and one that's particularly relevant for the music-loving doofuses at the center of the would-be trilogy: Bill and Ted Face The Music. Read more about the new movie below.
Reeves revealed the new title at a New York Comic Con panel for his new movie Replicas, and he dropped the latest update about what the film will be about (via Indiewire):
"It's a cautionary tale. They're supposed to save the world. But when we see them, they haven't saved the world, and they're married and have kids. And they're playing to nobody. But they have to write the song...and face the music! Hopefully we'll make it before I'm 60."
As for "the song" he mentions, a previous explanation from Reeves about this movie's plot provides a bit more detail for what to expect:
"The future comes back and says if you don't write the song by this certain time the universe is going to unravel and history and everything is going to change and dinosaurs are gonna walk the Earth. Jesus is playing baseball! All sorts of weird things start unraveling and wormholes are twisting. We have to kind of bring order back, and it's connected into bringing our families together by writing a song. [...]
I mean, it's edgy. There's a great scene where Bill and Ted are in jail and we're seeing our future us's and they're all tatted and hard. They're like, [tough sounding] "What's up, dude? Hey dude. Hey guy." "Stop calling me dude!" They want to beat up Bill and Ted because they've inherited the life that they f**ked up. They're miserable and they hate Bill and Ted. There's some funny stuff!"
I've never seen a Bill and Ted movie, but its catchphrases were so ubiquitous when the films came out that I managed to absorb them through osmosis. ("San Dimas High School football rules!", "Excellent!" etc.) Reading through the Wikipedia synopsis of Bill & Ted's Bogus Journey makes it sound absolutely insane, though, so I'm going to have a mini-marathon soon and finally catch up with this franchise.
Here's hoping the long-awaited third entry will be more in the vein of unexpectedly good sequels like Blade Runner 2049, Mad Max: Fury Road, and Creed, instead of things like Independence Day: Resurgence or Zoolander 2.