'Thor: Ragnarok' Early Buzz: The Most Fun You'll Have At A Marvel Movie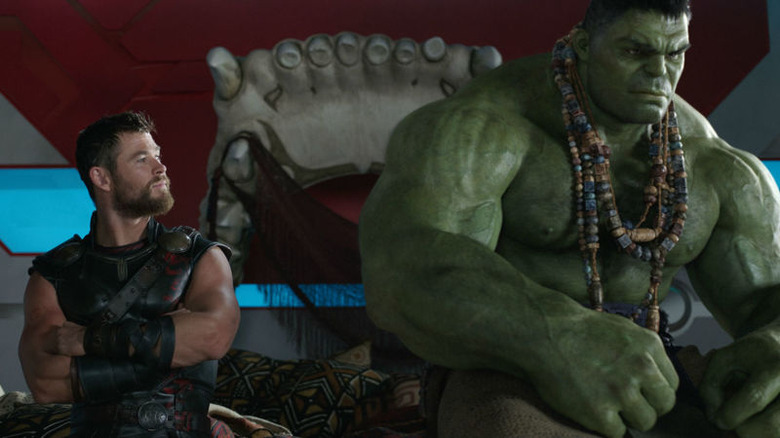 Marvel directors have had a tough time nailing a tone down for Thor. Is he a self-serious Norse god with a tragic Shakespearean background? Or is he comedic relief, obtusely stumbling over human courtesies?  Thor: Ragnarok director Taika Waititi asks: Why can't we have both? But mostly the latter.
Early Thor Ragnarok reviews are out, and they're heaping praise on the offbeat, retro, and lighthearted take on the mythic Avenger. The third Thor film has generated tons of positive buzz for finally letting loose the comedic talents of star Chris Hemsworth, who, until now, had mostly played the dour epic hero in his solo films, and tapping into the trippy potential of the cosmos. But Thor is nothing without his team (hurray for the Revengers!), with stellar supporting turns from the scene-stealing Tessa Thompson, fellow Avenger Mark Ruffalo, and vampy villainess Cate Blanchett.
Check out the early social media buzz for Thor: Ragnarok below.
Here's a round-up of social media reactions from critics who have seen Thor: Ragnarok, starting with our own Peter Sciretta:
Jokes and characters are front and center to the action & drama. This will be the thing people will either love, or dislike, about the film.

— /Film (@slashfilm) October 9, 2017
Hulk is once again the scene-stealer, and a lot of it is that he can finally talk. Great to see him back on the big screen. #ThorRagnarok

— Eric Eisenberg (@eeisenberg) October 9, 2017
Thor: Ragnarok is just plain fun. It's hilarious from start to finish with quirky performances & exciting action. Tessa Thompson is the MVP. pic.twitter.com/7GyYG4IZZ5

— Germain Lussier (@GermainLussier) October 9, 2017
#ThorRagnarok is SO much fun I almost can't take it. The best: Thor movie, Cate Blanchett scene stealing, Jeff Goldblum Goldblum-ing.

— Kara Warner (@karawarner) October 9, 2017
#ThorRagnarok ⚡️ABSOLUTELY ROCKS! I was totally blown away by the story, action, effects, performances, & one of Marvel's best soundtracks! pic.twitter.com/I6ZA9l6pEc

— Umberto Gonzalez @ SDCC (@elmayimbe) October 9, 2017
#ThorRagnarok was an absolute BLAST! Hysterical and seriously kick ass! Also @taikawaititi is a riot!

— Jenna Busch (@JennaBusch) October 9, 2017
Loved 'Thor: Ragnarok'. @TaikaWaititi did an awesome job. Movie is loaded with his trademark humor. Laughed beginning to end. pic.twitter.com/kfROuqSyVe

— Steven Weintraub (@colliderfrosty) October 9, 2017
#ThorRagnarok is the best Thor movie BUT still think it's really good not awesome. Hemsworth, Hulk & Tessa all great, though. And Goldblum! pic.twitter.com/rY6ItFzdjN

— Jim Vejvoda (@JimVejvoda) October 9, 2017
THOR RAGNAROK is hilarious & weird & offbeat & retro & sublime. Love how Marvel let Taika Waititi make a movie that's Waititi-ish as hell.

— Kevin Polowy (@djkevlar) October 9, 2017
Jeff Goldblum was my favorite part of THOR: RAGNAROK. Nonsensical and kooky as ever.

— Anna Klassen (@AnnaJKlassen) October 9, 2017
#ThorRagnarok is laugh out loud funny from start to finish. Stumbles a bit in the first act, but it triumphs when it gets weird with it.

— Haleigh Foutch (@HaleighFoutch) October 9, 2017
#ThorRagnarok: a goofy good time. Easily the funniest non-Guardians MCU flick – EVERYONE in it is funny. Great music (Mothersbaugh), fights.

— David Daniel @🏠 (@CNNLADavid) October 9, 2017
As for rest of the movie it may be divisive. I thought a lot was hilarious (if not too long) but felt like I was only 1 laughing at times

— Gregory Ellwood – The Playlist 🎬 (@TheGregoryE) October 9, 2017
Btw, #ThorRagnarok is solid MCU fun. Great music, Blanchett is awesome, looks/feels like an 80's video game. Slight, but wholly entertaining

— Scott Mendelson (@ScottMendelson) October 9, 2017
Marvel seems to be incredibly confident in Thor: Ragnarok, with the movie review embargo lifting on October 19, two weeks before film's release. With the social media buzz already effusively praising the movie's star, supporting players, director, and soundtrack, it's no wonder that the superhero studio is eager to allow critics their say.
Thor: Ragnarok is directed by Taika Waititi with a screenplay by Eric Pearson, and stars Chris Hemsworth, Tom Hiddleston, Cate Blanchett, Tessa Thompson, Mark Ruffalo, Jeff Goldblum, Karl Urban, and Idris Elba.
Here's the official synopsis for Thor: Ragnarok:
Imprisoned on the other side of the universe, the mighty Thor finds himself in a deadly gladiatorial contest that pits him against the Hulk, his former ally and fellow Avenger. Thor's quest for survival leads him in a race against time to prevent the all-powerful Hela from destroying his home world 

and the Asgardian civilization.
Thor: Ragnarok hits theaters on November 2, 2017.