'Archer' Season 9 Has Lovable A**holes And A Sarcastic Parrot [NYCC 2017]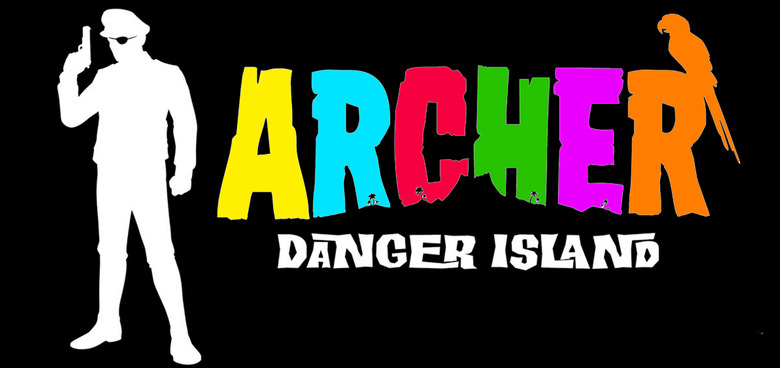 Two words: Peanut butter. If I remember anything about what went down at the Archer: Danger Island panel at New York Comic Con Saturday evening, it's that Lucky Yates (Dr. Krieger) was taught how to poop at age 3, when he opened the refrigerator, spied a jar of peanut butter and...success!
This story, shared by Yates himself, set the tone for what would become a delightfully random panel conversation between actors and apparent friends Aisha Tyler, Amber Nash, and Lucky Yates along with writer Casey Willis and director Bryan Fordney about their hit animated FX series held at the Hammerstein Ballroom in front of a packed audience that extended all the way down the street. While the crowd found this entertaining, the talk focused on the show, which will be celebrating its 9th season premiere early next year. And we got a chance to watch it.
Find out more from the Archer season 9 NYCC panel below.
Archer Season 9 Sneak Peek Recap
But first, a disclaimer from Fordney, who stepped onto the stage to introduce the episode: "We're not quite done with it yet. It has time codes and things in it... But we're going to show it to you anyway."  Way to play with our emotions, Bryan! He sounded at first like he was not going to be able to show the episode, but then when he said he still would—flaws and all—the audience roared. Hey, it's like watching an exclusive cut of one of your favorite shows. And we were all here for it.
It was comforting to see that even after multiple reimaginings of the characters and the world in which they live, the episode proved that they are still the most dysfunctional spy squad on TV—plus one sarcastic parrot. Without giving too much away, all I'll say is that the team is stranded together on this so-called Danger Island—and they're not exactly themselves. Well, they're still some of the worst people you would ever want to find yourselves around, but as different characters. Which makes the episode that much weirder—and hilarious—to watch. It was apparent that the audience agreed with me as they couldn't stop laughing throughout its 22-minute runtime, time codes and all.
While I have gotten a kick out of the show's various incantations of the last few seasons, I know folks have been more critical of it. And who knows how they'll feel about the fact that Yates is not only no longer Doctor Krieger, but he's not even human. He plays the parrot, Crackers, which he has no problem with. "I don't care if we ever see Krieger again."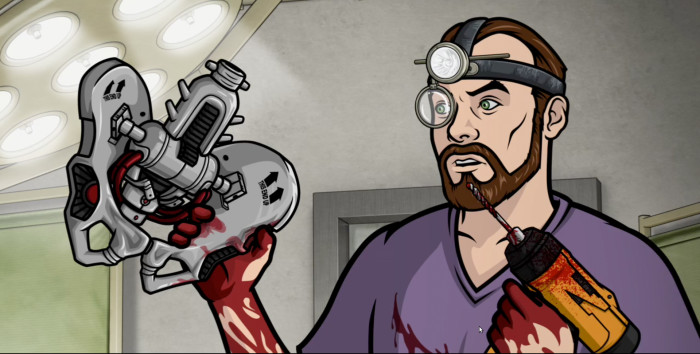 But Fordney acknowledges the critics by saying "I'm just not trying to tell the same spy story every season. I think this is really unique, though we may have lost some viewers but"—Tyler interjects here with "F**K THEM." And the audience loved that.
Seriously though, regardless of what some critics may think, Fordney is looking forward to lightening things up this season and getting away from last season's "film noir."
But even with this newest version, some things don't change. Those die-hard fans like me will be happy to know that "phrasing" isn't going anywhere. Also, "Pam is super-hot this season," Aisha Tyler said, smirking at fellow cast mate Amber Nash. "Everyone's favorite sexual encounter was with Pam," Tyler continued. And right on cue, Nash responds with, "Because Pam has got some magic p*ssy."
(The cast had to keep checking the crowd for underage audience members because the conversation had clearly turned to X-rated territory, not unlike their show, so everyone loved it. But still).
Everyone when Tyler says Sterling Archer remains "an a**hole, misogynistic, yet always winds up on top." Yates tries to defend Archer (played by H. Jon Benjamin, who couldn't make it to the panel) by saying "[Archer] ultimately always come through for you though." But be clear, as Nash reminds him, "He's still a dick." Right on, Nash (but also so are the rest of the characters). Fordney confirmed that Archer will be the most consistent throughout the series."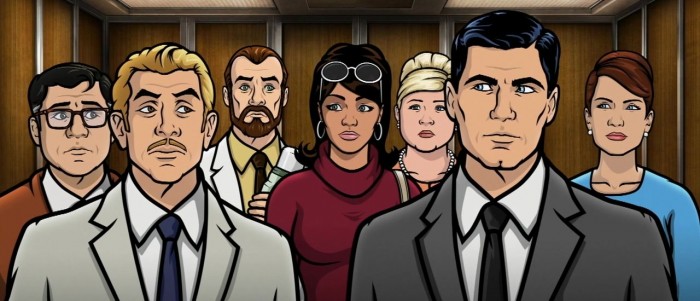 An Archer Movie and the End of the Series
The series has had a long run, which naturally begged the question about a movie from the audience. To which Casey responded, "Anything can happen. We just need to talk to the right people at FX." Then he pauses before adding, "I hear Harvey Weinstein might not be doing anything." And the audience loved this. I mean, taking a jab at a powerful man in Hollywood who's been brought down to size after countless sexual allegations about him? That was the best response of the night. And so was Tyler, who immediately got up out of her seat, walked over to Willis, and gave him a big enthusiastic high five.
Sensing the end of the show may be nigh, the audience asked the panel how they'd like to the series conclude. Nash gave the best response for Pam: "I'd like to see Pam walking into the sunset with the theme from The Incredible Hulk playing in the background." How cool would that be? How Pam would that be? She also topped that with "I hope to have an episode like in The Nutty Professor in which Pam is playing all of Pam's family." Well, now I want to see this too!
Meanwhile, Tyler said she wants a 70s themed episode in outer space "where Lana is a Foxy Brown type, knocking out jive turkeys, even with a white lover uptown." That's two ideas now, Archer writers. You know what to do.