'Black Mirror' Season 4 Is A Box Of Chocolates With Dark Filling [NYCC 2017]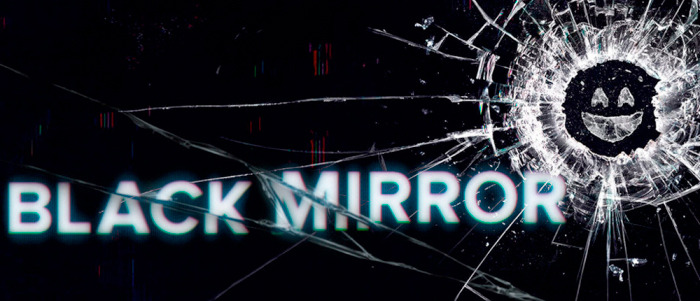 "We are in competition with the news," Charlie Brooker, writer/creator/executive producer of the Netflix series Black Mirror, addressed the uncomfortable truth about the drama's darkest themes Saturday night at New York Comic Con in front of a standing room-only audience.
I always thought it was funny when folks would remark on how far the dystopia would go on the show. To which I would always respond, "This is not unlike the world we live in." So, I was happy to hear that Brooker agreed that some of the show's most disturbing plot lines come from reality itself.
Find out more from the Black Mirror season 4 NYCC panel below.
The freshly minted Emmy award winner (for the dazzling "San Junipero" episode last season) was joined on stage by co-executive producer Annabel Jones to discuss where the show is heading by the time we see it again next February.
Okay, but first of all we need to talk about the fact that Academy Award winner Jodie Foster rolled up on the Con stage, declared herself a Black Mirror superfan, and said "I'm mad I didn't wear a costume." This is the moment when she just won herself a whole other fan base. It was announced just that morning that Foster was going to moderate this eagerly anticipated panel, and also discuss the episode she directed in the new season, "Arkangel." Folks were so excited that they came to the previous panel just so they make sure they have a seat secured by the time this one started.
But before Foster came out, the lights dimmed and we were treated to the trailer for the fourth season, which even though it didn't really give much away aside from some of the episode titles and guests stars (shout out to Jesse Plemons and Rosemarie DeWitt!), it gave the audience just enough to get hyped about.
Foster then introduced Brooker and Jones, who walked on stage and the conversation unsurprisingly shifted to the bleak premise of the show, commentary about technology, and its relationship to current events, specifically Trump America. "This would be a horrible show to do if you hate technology. We could put out an episode and 10 years later, a product would come up that looks eerily similar."
It's no secret that the show has had lots to say about our relationship with the digital space, which has made people uncomfortable. But Jones has approached this subject matter with deep. "You have to understand the appeal of technology in order to explore what people could fear from it," she said. "It's like a box of chocolates," Brooker added. "We don't know the filling but we know it's going to be dark." Mmmmhmmm.... Delicious.
Superfan Foster said, "The darker ones are my favorite." Me too, Jodie. Me too.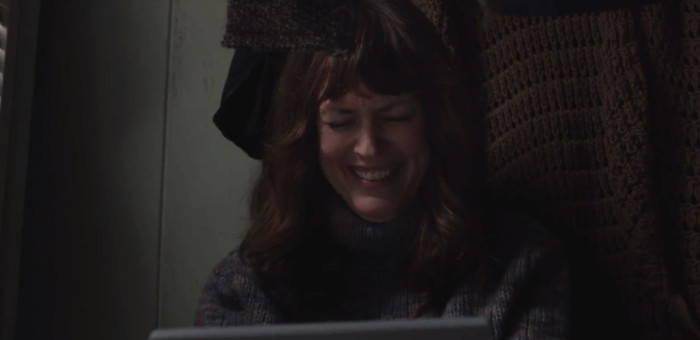 Black Mirror Season 4 Clip Recap
With that, Foster debuted a clip from "Arkangel" prefacing it with the following: "I already feel like I am living an alternative universe right now."
The clip began showing a mother (DeWitt) taking her child to a doctor's office for a free trial of a mysterious procedure designed to intentionally impact a chip into her head so that the mother could physically know where she is and what's she thinking about all the time. Commentary on the extremes of motherhood, technology, and social status? Yup, it fits right into the Black Mirror universe.
Brooker explained more about how he comes up with some of these prescient themes and what he thinks provokes a great episode, "I tend to be a worrier. I just find that the world seems to be in parallel with the darkest part of my mind. A lot of it seeps in subconsciously. Something that once seemed far-fetched is now prophetic," he said. Then he added "I'm trying to remain optimistic about what's going on, though." To which Foster replied, "Tell us how to do that."
Though it might seem unlikely, Brooker surprisingly finds humor in some of the episodes, including last season's popular "Nosedive" episode, which he described as "Brewster's Millions for reputation." And the now iconic "San Junipero" episode, there was the element of romance. "'San Junipero' was oddly easy to write, and it came out quickly." He also revealed that it was originally a heterosexual love story that he changed to a same-sex romance for added significance.
As far as this new season goes, Brooker is hopeful. "I thought about what the state the world would be in this season, which is why we varied the tone a bit."
With the addition of Foster this season, the audience asked whether we can expect to hire more women directors. This is something they apparently have already been conscious of and are striving to have more women filmmakers come on board. "I looked back at the first season, and I realized it had a lot of men. I definitely don't want to write about the same guy the whole time. Most of our lead protagonists this season are women."
Yet another reason to love this show.