'Pacific Rim Uprising': John Boyega Is The Sci-Fi Icon We Need [NYCC 2017]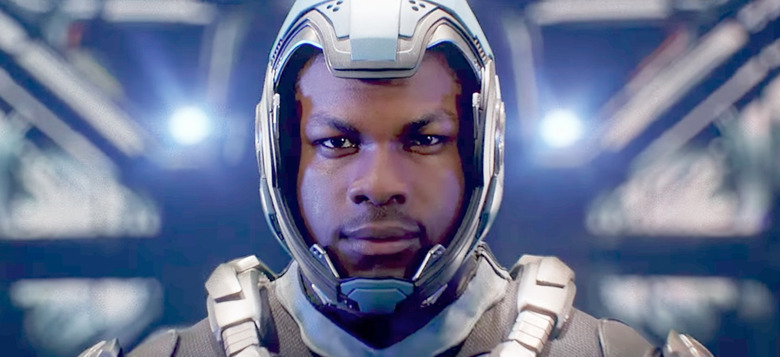 After starring in one of the biggest blockbusters ever, Star Wars: The Force Awakens, and headlining one of the most eagerly anticipated films of 2018, Pacific Rim Uprising, you'd think John Boyega would be comfortable with idea of being called a sci-fi icon by now. But as evidenced during the latter sci-fi sequel's panel at New York Comic-Con on Friday, he still remains remarkably humble.
Find out what John Boyega and more had to say during the Pacific Rim Uprising NYCC panel.
The 25-year-old UK actor stepped onto the panel's stage at Madison Square Garden on Friday afternoon ,and those who were still remaining in their seats prior to his name being announced immediately jumped up on their feet and clapped, fist pumped, and raised the roof—literally. Boyega was the last of the talent behind the new movie to make his grand entrance and he acknowledged the crowd with a friendly wave and a big smile. Though he seemed at ease in front of so many fans, he later said "I don't see myself as a sci-fi icon. This is very much a team, ensemble." But even he couldn't help but grasp the weight of his A-list status at that very moment. "Do I have the mission to be a part of everything? YES!" And everyone clapped, because we also want you to be a part of everything, Boyega.
The idea of heroes and icons was a recurring theme throughout this panel, which also consisted of director Steven S. DeKnight (who wore a full-on army officer suit), actors Scott Eastwood, Burn Gorman, and Cailee Spaeny, and was moderated by SyFy editor-at-large Aaron Sagers. This sequel to the 2013 Guillermo Del Toro-directed film takes place 10 years after those events and offers a chance to see new heroes rise up. "This film says that it doesn't matter who you are—what your gender or race is—you can make a difference. It is the hero inside you," DeKnight said.
Even when those heroes are reluctant, something Boyega has in common with his character Jake Pentecost, son of Idris Elba's Stacker Pentecost in the first film. "The greatest heroes don't accept their status," he said. "[Jake] is a hustler, and he's drawn into this world. The Pentecost name still means something and he has to live up to it in this movie."
That's not the only thing he has to worry about, though. This reassembled team, which includes newcomers Boyega and Spaeny, has a lot of other things going on including the rebirth of the apocalypse and newly redesigned jaegars. "They're badass," says DeKnight. But don't worry, DeKnight and the cast assured the crowd that they did not stray too far away from Del Toro's original landscape and the characters we'd grown to love so much. "The vision was to expand on Del Toro's universe," Boyega said. "I love the first movie. One of the biggest reasons why I accepted the role was to get to play Idris Elba's son."
DeKnight echoed his remarks about the film's reverence to the original: "Guillermo set the table and it was a fantastic visual feast. We wanted to honor the first movie while pushing it forward."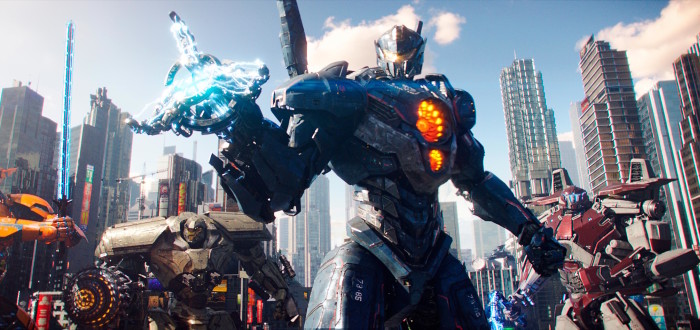 It was clear that everyone, including Spaeny, who'd never been in a movie before and hadn't even heard of the film prior to auditions, has a deep respect for the film. The 20-year-old actress, who admitted to being "super intimidated," said her character Amara "has taken it upon herself to be ready for fight and make sure she's badass." She continued, "I did a ton of research. I know you guys love the film, so I wanted to live up to it."
But even when all its great action sequences, Eastwood said "The story is still there." Part of that sees Gorman's returning character Dr. Hermann Gottlieb still reeling from the events that occurred in the first film. "Hermann is very affected by what happened." But, feeling a spoiler question coming, he adds jokingly, "He hasn't changed his socks since the last film." So, that's how he's coping, I guess. As the only returning cast member on stage, the audience looked to him about what it was like working on the film the second time around, and he was more than happy to oblige. "It was like being back in a playground."
And it sure looked that way. When the lights dimmed and anticipation heightened for the world premiere of the trailer, it was like a sci-fi movie fever dream.  It had explosions, the "badass" jaegars, Boyega kicking ass, and the apocalypse looming yet again. The audience, me included, could barely contain themselves watching the epic clip. Thankfully there aren't a whole lot of words in it; otherwise we wouldn't have been able to hear anything with all the screaming from the audience. It was with good reason, because it really is stunning to look at, especially up close in a theater as large as MSG with a bunch of superfans.
The audience was still coming down from the trailer when Gorman recalled working on the movie: "We said let's make this as awesome as we can. And we did." To which the audience responded with woot woot woot!
Boyega brought it back to what fans will appreciate most about the film. "Pacific Rim is a franchise that the fans were hopeful for. This is sacred sci-fi ground. You're not going to watch it with a detachment to the material. We're here for the old fans, as well as the new. We've got all your backs." Spoken like a true hero.