'Fast And Furious' Spin-Off Feud Gets Shut Down By The Rational Vin Diesel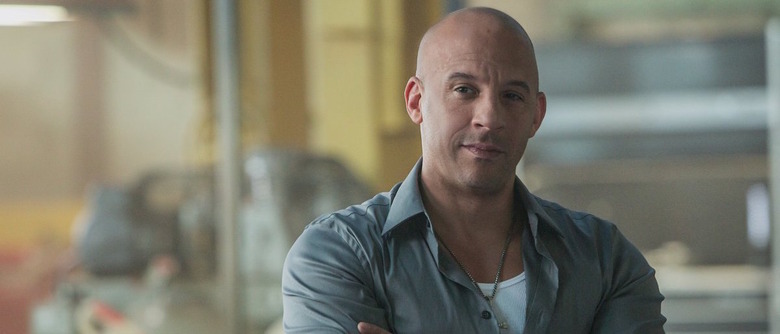 It's been quite a week for fans of the Fast and Furious franchise.
There's officially a Fast and Furious spin-off in the works that will focus on Dwayne Johnson as Diplomatic Security Service agent Luke Hobbs and Jason Statham as former villain Deckard Shaw. The film is slated to arrive in the spring of 2019 with the possibility of Shane Black directing, but not everyone is happy about this expansion of the Fast and Furious franchise.
Tyrese Gibson took to Instagram (again) this week to complain about Dwayne Johnson's efforts to veer off from the primary Fast and Furious franchise, claiming that he's splitting up the "family" they've built over the years and that none of the characters should be going solo. Now the patriarch of this makeshift family, Vin Diesel, has basically told everyone to chill out and grow up.
Find out what the actor had to say about this Fast and Furious spin-off feud below.
Initially, it seemed like Vin Diesel was in full support of Tyrese Gibson when he posted this to Instagram recently:
A post shared by Vin Diesel (@vindiesel) on
But then he followed it up with this post on Instagram, expressing his true feelings on the matter late on Friday night:
A post shared by Vin Diesel (@vindiesel) on
Along with the photo came this caption to calm down any bad blood between the franchise family:
Brotherhood... and all it's complexities. This scene was filmed in Puerto Rico, I can remember it like it was yesterday. Such a beautiful island, the people were so warm and welcoming. I turned 43 that summer... and my son Vincent was born.
A woman named Jan Kelly responded to a question I had asked on Facebook, who they would like to see me work with. She said [she] would love to see me work with Dwayne... I listened to her request and he became Hobbs.
I know there has been a lot of speculation as to why the Fast 9 release date was pushed... but it would be unfair to say it is anyone's fault.
As we plot the course to expand the Fast & Furious universe, one must be mindful to take stock of the roads we took to get here. The pillars of authenticity, family and most importantly, our loyal fan's perspective, has been instrumental in procuring success.
However, like any vehicle that has run around the globe 8 times, the franchise is in need of maintenance. My good friend and the godfather of Universal, Ron Meyer has granted me the time to do just that. We have some very exciting news to share soon... stay tuned.
Yours truly, Dom
It's good to know that Vin Diesel isn't picking sides in this argument and merely wants to keep the peace for the sake of fans who want to remain excited about the future of the Fast and Furious franchise. That's especially go to hear after there were rumors of a conflict between Dwayne Johnson and Vin Diesel on the set of Fate of the Furious that surfaced in August of 2016.
Further revelations found that feud revealed that Vin Diesel may have tried to get a Fate of the Furious credits sequence axed that was potentially shot as a way of setting up the recently announced spin-off starring Dwayne Johnson and Jason Statham. But even so, he and Dwayne Johnson were willing to squash any beef there might have been among the cast and both agree to return for Fast and Furious 9.
Dwayne Johnson hasn't directly responded to Tyrese Gibson about this matter, but he did post this on Twitter:
My goal from day 1 was to come in and create an exciting/fun character for the fans, elevate the franchise and build it out. #HobbsShaw2019 https://t.co/IJcdQTHSi3

— Dwayne Johnson (@TheRock) October 6, 2017
Tyrese Gibson doesn't seem to care if that was Johnson's intention, as he believes that keeping the "family" part of the franchise intact is more important. The actor revealed in another Instagram post that he and Chris "Ludacris" Bridges were once offered a spin-off for their characters in the franchise, but they turned it down.
While we can give Gibson kudos for sticking to his guns in this situation, at the end of the day, he should probably be more upset with Universal Pictures. The studio is looking to launch an expansion of the franchise before Vin Diesel walks away from it after Fast and Furious 10. The producer and star of nearly every single film in the series has already said that he would be done after the 10th film in the franchise came around. That means Universal needs another way to keep it going, and who better to bank on than Dwayne Johnson, one of the biggest movie stars in the world.
The big question is what Diesel means when he says "the franchise is in need of maintenance." What maintenance needs to be done? And what's the news that Diesel is teasing? We're not sure, but hopefully we'll find out soon.
Fast and Furious 9 arrives on April 10, 2020 but the spin-off arrives before that on July 26, 2019.