'Saturday Night Live' Teases Gal Gadot As Host With Some 'Justice League' Fun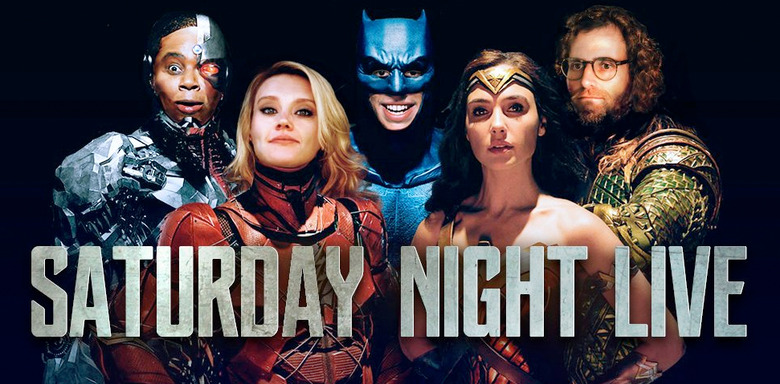 This weekend Wonder Woman star Gal Gadot will be broadcasting live from New York on Saturday night to make her hosting debut on none other than Saturday Night Live. Following her huge summer at the box office, we'll get to see Gal Gadot have fun with the late night sketch series, fresh off their season premiere last weekend and some big Emmy wins last month.
To tease the arrival of Gal Gadot in Studio 8H this weekend for some live sketch comedy, NBC has released their official teasers for the new episode as well as a touched up Justice League banner featuring Wonder Woman teamed up with the cast members of SNL as the DC Comics superhero team. Check out all the Gal Gadot Saturday Night Live promos below.
First up, here's Gal Gadot arriving on the set of Saturday Night Live but making one crucial error:
The actress also shot these for the new episode with Kenan Thompson and  musical guest Sam Smith:
We're not sure if there will actually be a Wonder Woman sketch on Saturday Night Live this weekend, but with Gal Gadot hosting, the odds are better than they otherwise might be with any other host, especially after all the attention the movie received over the summer. Then again, that could prove to be too easy or predictable for the sketch show.
We'll have our review of the full episode up the morning after the episode airs live from coast-to-coast on Saturday night at 11:30pm ET/8:30pm PT on NBC, where the hastily Photoshopped image at the top of the page came from on Twitter.