'Pacific Rim Uprising' Trailer: John Boyega Leads A New Generation Of Jaeger Pilots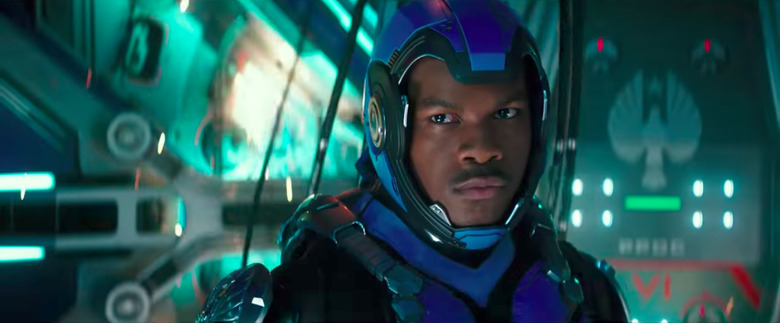 Turns out that what follows after you cancel the apocalypse...is another apocalypse.
The trailer for Pacific Rim Uprising debuted at New York Comic Con, after months of teases and images for the highly anticipated follow-up to Guillermo del Toro's 2013 love letter to mecha anime and monsters, Pacific Rim. Now it's up to a new generation of Jaeger pilots to save the world and defeat the monsters — with all-new gadgets and rocket-arm swords.
In the sequel, we follow a new generation of Jaeger pilots as they maneuver the battle-torn Earth 10 years after the events of the first film, and struggle with the legacy of the world's saviors. The one who carries the biggest burden, however, is John Boyega's Jake Pentecost, the turmoiled son of Idris Elba's Stacker Pentecost, who sacrificed himself to save the world (and gave a baller speech while doing it). Now Jake must step into his father's shoes — and Jaeger — while being mentored by his adopted sister and hero of the first film, Mako Mori (Rinko Kikuchi). He seems to have picked up his father's habit of delivering inspiring speeches at least.
Watch the Pacific Rim Uprising Trailer
"This is our time, this is our chance to make a difference," Jake proclaims to the new Jaeger pilots surrounding him in the trailer. "Now let's get it done!" There are a lot of callbacks to the original film and its legacy, though sadly Kikuchi is nowhere to be seen. Familiar faces Charlie Day and Burn Gorman return however the bickering Kaiju scientists.
Supported by a rousing hip-hop soundtrack, The Pacific Rim Uprising trailer looks much more like a video game than del Toro's 2013 film did. But that's not a bad thing. It doesn't seem to take too seriously the ridiculous premise of the first film — which was essentially a high-concept monsters vs. robots film. Pacific Rim Uprising feels like a sleeker, more heavily merchandised take on it. And people are probably already lining up to buy the toys.
Rounding out the cast is Hollywood's new favorite son, Scott Eastwood, who strikes a forgettable presence in nearly every blockbuster he has been in. Hopefully, as co-lead in Pacific Rim Uprising, this won't be the case in this film. Newcomers to the cast also include Cailee Spaeny as Jaeger hacker Amara, Adria Arjona as Jules, and Kong: Skull Island's Jing Tian as Liwen Shao.
Here's the official synopsis for Pacific Rim Uprising:
The globe-spanning conflict between otherworldly monsters of mass destruction and the human-piloted super-machines built to vanquish them was only a prelude to the all-out assault on humanity in Pacific Rim Uprising.
John Boyega (Star Wars: The Force Awakens) stars as the rebellious Jake Pentecost, a once-promising Jaeger pilot whose legendary father gave his life to secure humanity's victory against the monstrous "Kaiju." Jake has since abandoned his training only to become caught up in a criminal underworld. But when an even more unstoppable threat is unleashed to tear through our cities and bring the world to its knees, he is given one last chance to live up to his father's legacy by his estranged sister, Mako Mori (Rinko Kikuchi)—who is leading a brave new generation of pilots that have grown up in the shadow of war. As they seek justice for the fallen, their only hope is to unite together in a global uprising against the forces of extinction.
Jake is joined by gifted rival pilot Lambert (The Fate of the Furious' Scott Eastwood) and 15-year-old Jaeger hacker Amara (newcomer Cailee Spaeny), as the heroes of the PPDC become the only family he has left. Rising up to become the most powerful defense force to ever walk the earth, they will set course for a spectacular all-new adventure on a towering scale.
Pacific Rim Uprising is set to hit theaters on March 23, 2018.