Tyrese Blames The Rock For 'Fast 9' Delay On Instagram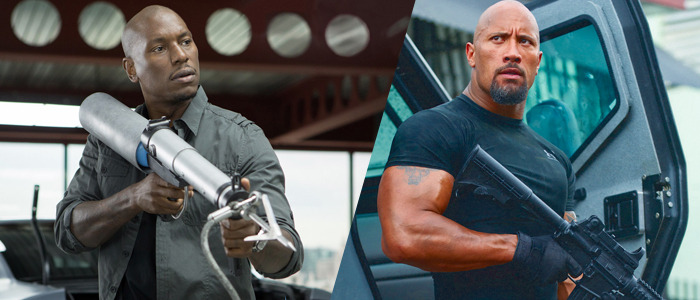 Well, it's official: there's more beef in the Fast & Furious family than you'll find at a butcher shop.
First, there was the feud between franchise producer/star Vin Diesel and Dwayne Johnson on the set of The Fate of the Furious. Tyrese Gibson, who plays the fast-talking Roman Pearce, has set his sights on The Rock in a new Instagram post in which he blames the movie star for the recent delay of Fast 9.
Here's some necessary background information before we dive into the confusing and inexplicable world of Tyrese's Instagram. While Diesel and Johnson had a behind-the-scenes feud on the set of Fate, they put their differences aside to finish the movie, which went on to become a $1.2 billion grossing smash hit. Apparently, things were smoothed out enough between the two leading men that Johnson (who joined the franchise in Fast Five and has been partially responsible for it becoming such a huge global success) agreed to come back for the final two movies in the saga. But there was also talk of a possible spin-off involving The Rock and Jason Statham's characters, who showed nice chemistry in their handful of scenes together in The Fate of the Furious. And that was on top of comments from Johnson about a solo Hobbs movie from years ago.
In the middle of last month, Tyrese took to social media to desperately beg Johnson not to star in that rumored spin-off, starting his bizarre ranting request with the words, "I have never and will never have a problem with this major movie star he's my brother...I repeat ever..." Well, it seems as though that promise was short-lived, because Tyrese definitely has a problem now and he wants the whole world to know about it: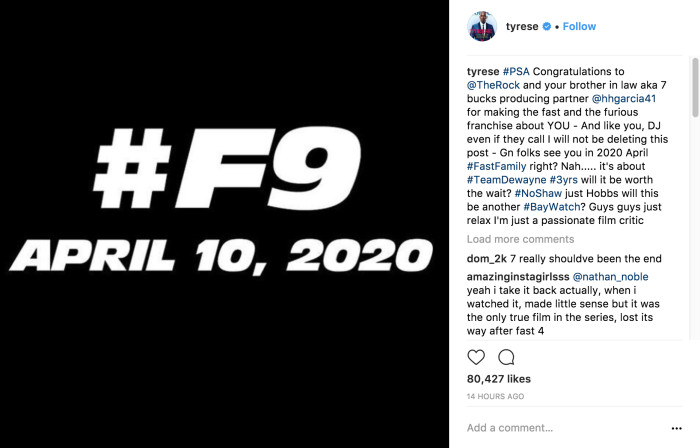 There's a lot to take in there, but most importantly, the phrase "#NoShaw just Hobbs" indicates that maybe this is actually a solo Hobbs movie, something both Diesel and Johnson have spoken about previously. But again, I have to wonder how much Tyrese actually knows about the particulars of this spin-off: is he really getting copies of the script passed his way? I'm not quite ready to fully trust his info about Statham's Shaw not making an appearance. And keep in mind: the Dwayne Johnson-starring spin-off hasn't even officially been announced yet. (Though I wouldn't be surprised to hear confirmation on that soon.)
This seems like a remarkably petty move on Tyrese's part. He seems to place a tremendous amount of value on hitting pre-ordained release dates (he previously attributed Fate's box office haul to the fact that they stuck to their date on that one), but look, this franchise has been around since 2001. Waiting one more year for Fast 9 is not going to be the tipping point that causes people to reject the franchise. And as I've said before, I thought Fate was a middle-of-the-road entry in the saga, so I'm actually glad this has been pushed because it means that franchise writer Chris Morgan will have some more time to come up with a worthy story. It's too bad Tyrese, the "passionate film critic," disagrees.