'Pacific Rim Uprising' First Look: John Boyega Brings The Battle To The Monsters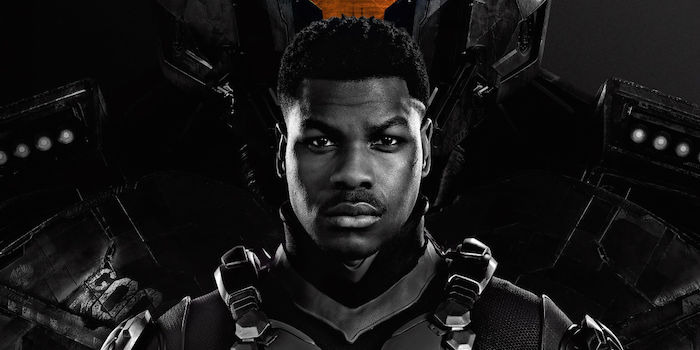 The first trailer for Pacific Rim Uprising won't arrive until Friday, but the first images from the Pacific Rim sequel give us a glimpse at the impressive new Jaegers and their pilots.
John Boyega leads the next-generation team of Jaeger pilots who must deal with the fallout from the world-saving battle 10 years ago, and gear up for a possible new invasion.
Playing Idris Elba's son is a tall order in and of itself, but Boyega is more than talented enough to shoulder the burden. In the Pacific Rim Uprising first look from Entertainment Weekly, Boyega talks stepping into his Stacker Pentecost's shoes and strapping on the Jaeger pilot uniform for the first time:
"Jake is the prodigal son. He is a young guy who was on the cusp of greatness in his early days when he was training to be a Jaeger pilot, but he always had a troubled relationship with Stacker. I'm the son he didn't really talk about in the first film ... the product of Stacker's first love."
But Jake Pentecost is brought back into the fold after his deeds as a black market retailer catch up on him, forcing Mako Mori (Rinko Kikuchi returning as the scene-stealing protagonist from the first film) to give him a choice: return to the Jaeger program that he abandoned as a rebellious teen, or pay for his crimes. Jake chooses the Jaeger, reuniting him with old friend Lambert (Scott Eastwood) and placing him on the vanguard against a new attack from the Kaiju.
Here are some of the first images from Pacific Rim Uprising. You can check out more at EW.
With a new generation of Jaeger pilots (including newcomer Cailee Spaeny as a hacker) come a new generation of Jaegers. Read some of the descriptions, courtesy of EW and Boyega:
Gipsy Avenger: "She's an upgrade model form Gipsy Danger in the first movie. She is still a two-man Jaeger and has new weapons and technology. The new Gipsy has LCD screens and holographic imagery of what is going outside. Her gravity sling has improved. Pilots are no longer locked into robot by feet. It has a scanning system that makes the drift easier to handle. Gipsy Avenger is strongest and hardest to operate."
Saber Athena: "She's the fastest Jaeger, and she is agile and assigned two skillful pilots who know how to do martial arts. She has two swords she can join together to slice stuff down. She's flexible and very fast."
Guardian Bravo: "She has big electric whips, but is very stocky and strong."
When the synopsis of Pacific Rim Uprising was released earlier this week, I pondered how they could continue the story after the apocalypse was cancelled. Boyega reveals that, "The Kaiju have found a new way." He told EW:
"They are way more intelligent than we thought they were. The monsters you saw in the first movie were the test run, to see how the planet would hold up. The breach we thought was closed is not their only way into our world. Their plans are more specific. Jake leads the team in trying to build up a new defense against that."
So essentially the narrative of Independence Day: Resurgence, but hopefully done more effectively. Admittedly the movie looks great, even if director Guillermo del Toro isn't returning for the sequel (Steven S. DeKnight is helming) and original star Charlie Hunman is nowhere to be seen. While I'm not convinced that Scott Eastwood will be as big a leading man that Hollywood seems to think he is, at least Kinkuchi is returning in a mentor role this time.
Pacific Rim Uprising is set to hit theaters on March 23, 2018.