'Roman J. Israel, Esq.' Trailer: Denzel Washington Gives A High-Powered Performance As A Disillusioned Lawyer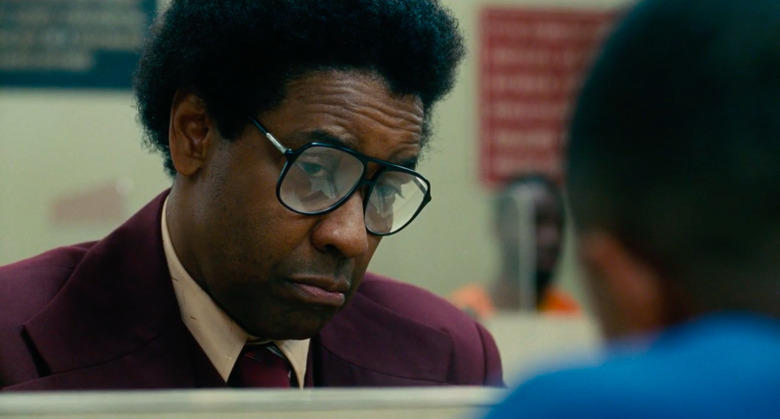 Denzel Washington and Nightcrawler writer/director Dan Gilroy? Sounds like a dream team behind the new legal drama Roman J. Israel, Esq.
The first trailer for Gilroy's anticipated follow-up to his acclaimed directorial debut Nightcrawler has dropped, and it has Washington setting the bar for Oscar-buzzy performances as the titular idealistic lawyer who becomes disillusioned with the practice.
Roman J. Israel, Esq. Trailer
EXCLUSIVE: Watch Denzel Washington suffer no fools in snappy new @RomanJIsraelEsq trailer
More: https://t.co/6oXGX8CxY2 pic.twitter.com/SAaHu9RTjY

— Entertainment Weekly (@EW) October 5, 2017
Washington has another shot for the golden statuette this year with Roman J. Israel, Esq., after losing out on the Best Actor Oscar prize last year to Casey Affleck. His role in the legal drama written and directed by Gilroy is a 180 from his acclaimed role in Fences, with Washington playing an idealistic, introverted civil rights lawyer somewhere on the Asperger's scale who undergoes an existential crisis when his longtime firm fires him. Discouraged with his mission to help the poor, and apparently still stuck in the '70s, Roman takes the law into his own hands, sacrificing his morals in the name of money — and at the urging of a sleek lawyer played by Colin Farrell.
Roman J. Israel, Esq. premiered at the Toronto International Film Festival last month, where /Film's Chris Evangelista gave it a rather unflattering review, praising Washington's performance but saying that it was a disappointing sophomore effort for Gilroy for whom "lightning doesn't strike twice." Chris wrote:
Roman J. Israel, Esq. is too meandering for its own good. Gilroy is obviously a talented writer – he has a wealth of credits to his name – and Nightcrawler showed him to be a promising new director. There are a few visual flourishes to Roman – like when Gilroy goes in extremely close on Roman's face during a revealing conversation with Ejogo's character and blurs the focus of everything outside of the frame–- but none of the energy or life on display in Nightcrawler is present here. Hopefully, this will be nothing more than a sophomore slump and Gilroy will come bouncing back with a better film. For now, though, Roman J. Israel, Esq. should probably be stricken from the record.
Here's the official synopsis for Roman J. Israel, Esq.:
Roman J. Israel is an idealistic, introverted attorney who has worked for years behind the scenes. But when his circumstances suddenly change, he lands at a cutthroat firm, working for a ruthless attorney and discovers a case that tests his mettle.
Roman J. Israel, Esq. is set to hit theaters on November 3, 2017.