The Water Cooler: A Creepy Comic, An Addictive Period Drama, And An RPG Played With A Jenga Tower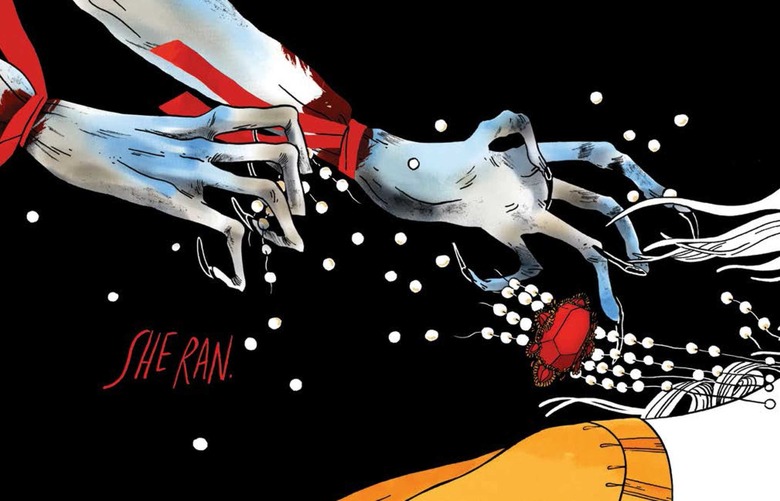 Welcome to The Water Cooler, a weekly feature where the /Film staff is free to go off-topic and talk about everything except the movies and TV shows they normally write about. In this edition: Chris revisits a chilling horror comic, Jacob plans an RPG played with a Jenga tower, Hoai-Tran indulges the period TV series Victoria, and Ben visits the Magic Castle.
Chris Evangelista Has Been Reading Through the Woods
Now that October is here, and the weather is finally starting to cool down (in my location, at least), I'm in full-blown SPOOKY MODE. And while horror movies are the ideal method of celebrating Halloween season, I also like to crack open a scary story or two. Last weekend I re-read Emily Carroll's gorgeous, gothic graphic novel collection Through the Woods. Featuring five absolutely chilling tales of terror written and illustrated by Carroll, Through the Woods is like the classic Scary Stories to Tell in the Dark books (you know, the ones that traumatized children everywhere with their drippy ink drawings) crossed with Guillermo del Toro's Crimson Peak. These are lonely, scary stories about lonely, frightened individuals coming to terms with truly terrifying supernatural visions.
In one tale, a trio of sisters are left alone while their father goes hunting. When the father never returns, the girls begin to have visions of a mysterious stranger with a big, toothy grin hiding somewhere in their house; in another, a man jealous murders his older, more popular brother, only to have the brother turn up seemingly very much alive, and with no memory of his murder. These tales would be spooky on their own, but Carroll's gorgeous illustrations make them even more powerful. It's one of my favorite books of all time, and it's the perfect thing to read by an open window with a glass of hot tea as a cool autumn breeze blows in.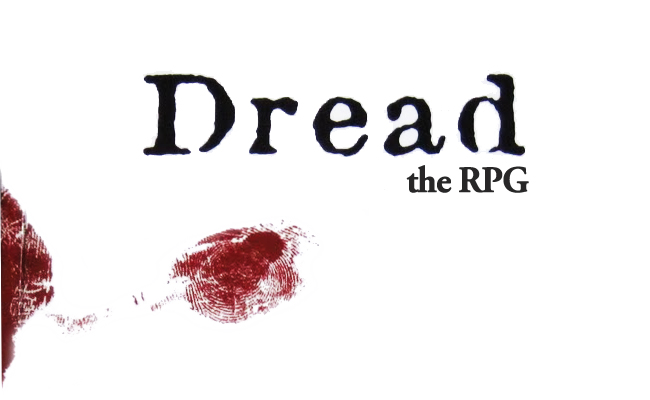 Jacob Hall Has Been Planning a Dread Game
As readers of The Water Cooler may know (and as those who follow my on Twitter are tired of hearing), I'm currently between two homes, crashing with family while I wait for my continuously delayed home to undergo a few final city inspections. So what's a guy to do when it's October and he's surrounded by game-loving family members and he has a lot of time on his hands? You plan a game of Dread, of course.
Dread is one of the cleverest horror RPGs I've ever encountered. There are no dice to be found. Instead, whenever a character wants to do something difficult or beyond their abilities, they must draw a block from a Jenga tower. If they succeed, they get what they want. If they start pulling and give up, something horrible happens to their character. If the tower falls, their character dies or is marked for an inescapable death. The fate of your character is literally in your hands and watching that tower grow increasingly unstable over the course of a three-hour session creates a sense of tension (of dread!) that is unmatched in tabletop gaming. There's nothing quite like realizing that you'll have to reach into that precarious tower and pull another piece if you want to jump over that gap to escape a werewolf. It's a game that gets people screaming at the table, which is what you want from a horror game, really.
In a previous game (based around the crew of a spaceship battling a demonic possession), I made one player draw block after block to endure a series of challenges, and she survived by the skin of her teeth as her situation went from bad to worse. It was an incredible display that reflected her character's in-game struggles – her skill at keeping the tower standing was the perfect stand-in for her character staring death in the face and refusing to give up. And then another player pulled another piece to do something far less dramatic and the tower fell and he died quickly with little fanfare. The entire group shrieked and screamed and laughed and I knew this game would enter my permanent rotation.
But this game may be a little different. The family members I'm playing with are all board game fanatics, but this is the first roleplaying game experience for many of them and I look forward to seeing how they take it in. As a game master, I try to give my players a lot of free rein, letting them dictate the story and forcing me to react rather than place them on a specific course. With my usual crew of players, I often know what to expect. But with this group? I'll need to be on my toes. Now that's scary.
Hoai-Tran Bui is Watching the British Period Drama, Victoria
I love my period drama movies, but surprisingly, I can't stand them on television. They're too long, too laborious, and often a little too soapy. But I caught the costume drama bug with Victoria, ITV and Masterpiece Theatre's drama about the troubled early years of Queen Victoria's reign. The series is chock full of enthralling palace intrigue, lush costume design, and informative historical perspectives.
But I'm gonna be honest: I'm just here for the love triangle. I'm a gushy fangirl who fell in love with Mr. Rochester in the pages of Jane Eyre when I was in the fourth grade, so of course I would love Victoria. Jenna Coleman is bright and charming as the naive Victoria, but it's Rufus Sewell who steals the scenes (and my heart) as the brooding and Byronic Lord Melbourne, Victoria's first prime minister and closest confidante. He has got the tortured pining face down pat, and that is my period drama kryptonite. Unfortunately, he disappears midway through the first season to make way for Victoria's husband Albert — played by the stoic and endearing Tom Hughes, who acts as the Mr. Darcy equivalent to Sewell's Rochester-type — but the compelling characters keep me watching. So yes, I am trash for period drama romances, and Victoria more than steps up to the task of filling that void.
Big thanks to @slashfilm & @kitra for taking me, @amyw1219, and @p_m_i_l_l_s to the Magic Castle tonight, and to Peter for doing a few tricks for us! (Last pic is of a card Peter had me sign before ripping off a corner, eating it in front of us, and somehow restoring it to normal.) Super cool way to wrap up my birthday.
Ben Pearson Visited the Magic Castle
My birthday was last Friday, so to celebrate, I asked /Film's Peter Sciretta if he'd be willing to take me, my wife, and a friend to The Magic Castle, an exclusive club for magicians located in Hollywood. You have to be a magician or be invited by a magician to get in, and Peter – who recently became a member of the Academy of Magical Arts – graciously said yes. So we met up with him and his girlfriend Kitra and spent the evening seeing a wide variety of magical performances...including a few minutes of magic from Peter himself.
The castle itself is an architectural marvel, with hallways that seem to go on forever and multiple levels that make you feel as if you're being engulfed by history every time you turn around. It was built in 1910, and we ate dinner in what used to be the master bedroom. There are doorways that slide away when you utter a password, a piano that takes requests and instantly plays any song you can think of on command, and, of course, tons of places for magic to be displayed. We saw a stage show in which a magician retrieved a signed card from the center of a pickle before our eyes, and another guy mounted a nearly six-foot unicycle and juggled fake loaves of bread underneath his own legs as he pedaled.
But the most impressive performances to me were the close-up rooms where only a handful of people gather around a magician to watch he or she do card tricks or maneuver cups and balls right in front of you. The sleight of hand some of these performers can pull off is truly mind-blowing, and while Peter might object to the compliment, some of his tricks left me scratching my head in amazement, too. If you're in Hollywood and ever manage to get invited to the Magic Castle, don't pass up the opportunity to check it out in person.