'The Shape Of Water' Behind-The-Scenes Feature Reveals New Footage Of The Sexy Fish-Man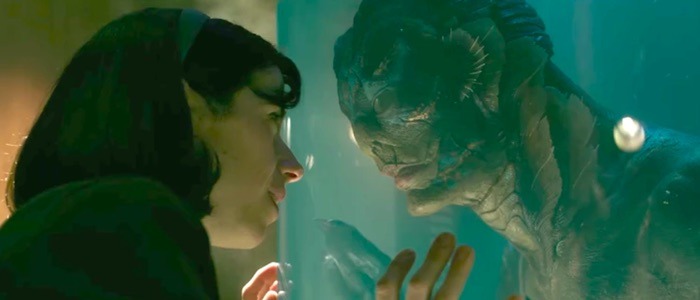 Guillermo del Toro is one of our best living filmmakers, and he's about to release his masterpiece, The Shape of Water. A Cold War romance about a woman falling in love with a fish-man, The Shape of Water is a lovely monster movie the likes of which only del Toro could make. In a new behind-the-scenes feature, the acclaimed filmmaker talks a bit about the film while new footage is revealed. See the new The Shape of Water footage below.
The Shape of Water Behind-The-Scenes
Watch NEW never-before-seen footage of Guillermo Del Toro's #TheShapeofWater! pic.twitter.com/tZHyhdm6tw

— IGN (@IGN) October 4, 2017
In new behind-the-scenes footage, courtesy of IGN, del Toro talks a bit about the making of the film, as does actor Doug Jones, who plays the fish-man and has worked with del Toro on six movies now, including Hellboy, Hellboy II and Pan's Labyrinth. In the footage, Jones says that del Toro described the fish-man character to him as "part Silver Surfer" (a character Jones played in Fantastic Four: Rise of the Silver Surfer) and "part matador."  "This creature is a presence," del Toro says. "He needed to have a very ancient energy, and Doug got it." The footage reveals more scenes from the film, including moments involving Michael Shannon's villainous character Strickland and Michael Stuhlbarg's helpful Dr. Hoffstetler.
In The Shape of Water, Sally Hawkins plays a mute woman in the 1950s who works as part of the custodial crew at a top-secret government testing facility. One night at work she comes in contact with the facility's latest test subject – a fish-man that bears more than a passing resemblance to The Creature from the Black Lagoon. The government wants to study and possibly dissect the fish-man for their own nefarious purposes, but Hawkins' character is drawn to the creature in an inexplicable way. The two characters end up sharing a connection that soon blossoms into a romance. It might sound weird, but it's presented in the most delightful, natural way that makes the film all the more endearing. As I said in my review from TIFF:
The Shape of Water unfolds with a dreamy grace, full of moments that will have you uttering blissful sighs of content. Alexandre Desplat's score is lush and romantic, perfectly underscoring the film's tone, and the cinematography courtesy of Dan Laustsen recalls the look of films from Michael Powell and Emeric Pressburger. Del Toro creates one gorgeous moment after the next, including a show-stopping scene that turns into something out of a classic musical. It's the type of thing only del Toro could create.
The Shape of Water opens December 8, 2017.