'Stranger Things' Gets Pixelated In A Video Game That Will Prepare You For Season 2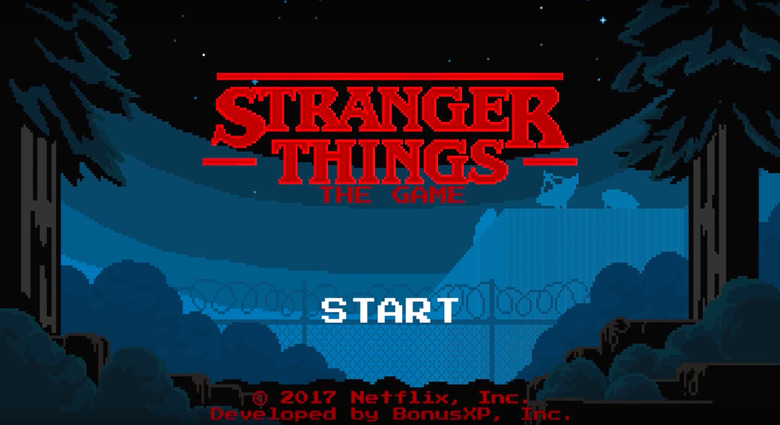 If you thought that the '80s-inspired posters, the geeky Goonies stunt casting, or Eleven's perm weren't retro enough, this Stranger Things video game may just do it.
In anticipation of the fast-approaching Stranger Things season 2, a real, playable Stranger Things game will allow you to explore the weird world of Hawkins, Indiana, and the Upside Down in all of its pixelated glory.
In an excellent tie-in to Stranger Things' arcade-centric second season, Netflix has released an action-adventure top-down Android and iOS video game that makes a clear callback to classic The Legend of Zelda: A Link to the Past, Metroid, and Double Dragon games.
The game starts you off as Chief Hopper searching the Hawkins Lab for Will and the other missing kids, and then plunges you into various scenarios from the first season: Mike being chased on his bike by threatening government agents, Nancy hacking her way through the woods, and Hopper exploring the Upside Down. There are a few non-show additions like Lucas fighting an evil scientist or Will escaping through the sewers — which could be game-only missions, or perhaps a hint at season 2.
The video game is quite lovingly made, with users given the chance to do the requisite fighting and punching, but also to try their hand at puzzle solving. In Hawkins Lab, for example, you need to disable a series of security lasers. Specific characters have special abilities that help you in the game too, like Lucas' slingshot. The icon for the game in the app stores is even made to look like an old-school cartridge.
The Stranger Things video game is available for free on both iOS and Android.
The game is part of Netflix stepping up their promotional game for their flagship TV series and genuine pop culture phenomenon. In addition to the weekly '80s movie-inspired posters, several featurettes and preview clips tease Stranger Things season 2, like this creepy "1984" clip, which approaches both the pop culture and supernatural events in Hawkins, Indiana like a giant conspiracy.
Only in Stranger Things could Coca-Cola be linked to a vast web of conspiracies involving the Terminator and Frankie Goes to Hollywood's debut single "Relax."
Stranger Things season 2 is set to premiere on Netflix on October 27, 2017.