'Spider-Man Homecoming' Deleted Scene Teases Further 'The Winter Soldier' Connection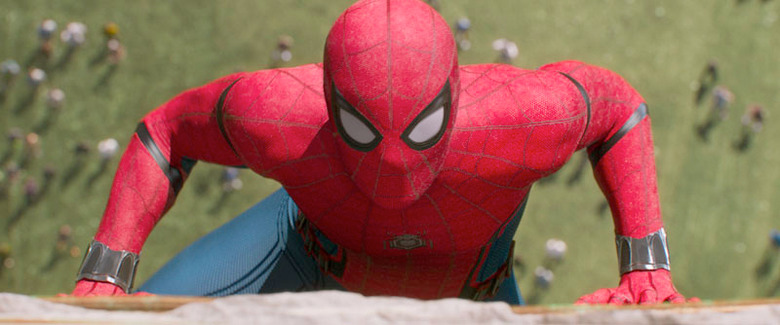 Spider-Man: Homecoming was a nice surprise. At the time of the film's release, the last thing we as a filmgoing society needed was yet another Spider-Man reboot. But with Spidey now firmly embedded within the MCU, the character found a new lease on cinematic life, resulting in one of the year's most entertaining films. As the film approaches its Blu-ray release, a newly revealed deleted scene gives us a never-before-seen moment from the film that further connects to the MCU. Watch the Spider-Man Homecoming deleted scene below.
In Spider-Man: Homecoming, young Peter Parker (Tom Holland) is still riding the high of having fought alongside (and also against) the Avengers in Captain America: Civil War. He's ready and eager to join the Avengers full-time, but Tony Stark (Robert Downey Jr.), aka Iron Man, isn't in much of a rush to let Peter become a full-blown Avenger just yet. In the meantime, Peter spends his days juggling local neighborhood crime fighting as Spider-Man while also dealing with really important stuff, like high school.
Spider-Man: Homecoming Deleted Scene
In a newly released deleted scene, Peter and his high school debate team are on their way to Washington D.C. for their national tournament. While on the bus, they pass the remains of a crashed "skycraft carrier" from the climax of Captain America: The Winter Soldier. Peter's classmate Michelle (Zendaya), suspicious of the government, remains skeptical of Captain America's actions, while Peter's best friend Ned (Jacob Batalon) jumps to Cap's defense.
It's not the most exciting deleted scene, and since it never made it into the movie the effects work isn't even finished – it looks like the actors are driving past a still image on a computer screen rather than a physical location. None the less, it's nice to have another scene with Zendaya's Michelle, who was my personal favorite character in the movie despite limited screen time. The scene also further connects Spider-Man into the overall MCU, although it also hints at some extreme laziness on the part of the government. I mean, there was another other Captain America movie after The Winter Soldier, and yet they still haven't gotten around to cleaning up all those crashed skycraft carriers? Get with the program, people.
If you're looking for more Homecoming deleted scenes, you're in luck. The upcoming Blu-ray release has a total of ten, some of which I'm sure will actually contain something remotely exciting.
Spider-Man: Homecoming, starring  Tom Holland, Michael Keaton, Jon Favreau, Zendaya, Donald Glover, Marisa Tomei and Robert Downey Jr., swings onto 4K Ultra HD/Blu-ray, Blu-ray 3D, Blu-ray & DVD October 17.