Disney And Lucasfilm Debated Killing Han Solo In 'Star Wars: The Force Awakens'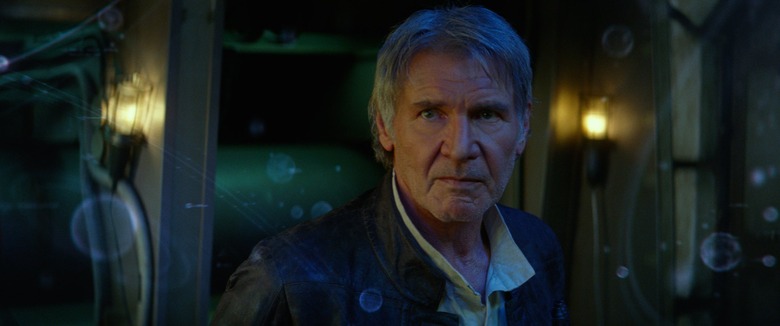 The big debate around Han Solo may no longer be "did he shoot first?" but "was he supposed to die at first?"
The death of Harrison Ford's iconic sci-fi character reverberated throughout the Star Wars universe, affecting characters both new and old in Star Wars: The Force Awakens. But the Han Solo death scene might not have happened if it was up to Disney. Because not only did killing Han Solo impact on his newfound mentee Rey (Daisy Ridley), his ex-wife Leia (Carrie Fisher), and his own son who did the deed Kylo Ren (Adam Driver), it also threatened to impact the Disney brand as well.
Disney CEO Bob Iger revealed at Vanity Fair's New Establishment Summit in Los Angeles that Han Solo's fate in Star Wars: The Force Awakens was heavily debated between Lucasfilm, Disney, and Force Awakens director J.J. Abrams. He admitted (via ScreenRant):
"We had a big debate about Han Solo. Should he die or not? It was a decision made by [Kathleen] Kennedy and [J.J.] Abrams, but I got involved."
It's understandable that Iger would be protective of Han Solo: as a fan-favorite character who is soon to receive his own solo prequel, he has the strongest brand of all the Star Wars characters apart perhaps from Darth Vader and Yoda. Disney could potentially lose out on so much merchandising money without Ford appearing in Episode VIII or Episode XI!
It's no wonder that Iger got involved in the conversation, but in the eyes of many movie fans, it can seem a bit worrisome that a CEO could have so much influence over a storytelling decision. That Iger and Disney could have taken this compelling narrative conclusion away from Abrams and The Force Awakens can't help but feed into the ongoing concerns that Star Wars fans have over Lucasfilm's highly publicized conflicts with its recent directors like Colin Trevorrow and Phil Lord & Chris Miller. And honestly, we probably won't know the whole story until a tell-all book is published a few decades from now.
In the end, Han Solo's arc came organically to an end, betrayed by his own son but finding a spiritual successor in the mechanically-minded ingenue Rey. It acted as both an apt ending to Han Solo's long and troubled journey and as an homage to Obi-Wan's death in Star Wars: A New Hope. It's likely that Ford only returned to the role that launched him into stardom so that he could bring his character's arc to a close — Ford has been vocal in his opinion that Han Solo should die since 1983's Return of the Jedi.
Ford told USA Today that he was grateful The Force Awakens finally killed off his character in a way that gave the film more emotional depth.
"I wanted him to die for a long time, so I finally talked them into it. Not for the — just to dispose of him, but to ennoble his participation and give the whole tune some bottom."