'Wonder Wheel' Trailer: Kate Winslet And Justin Timberlake Strike Up A Romance In Woody Allen's New Film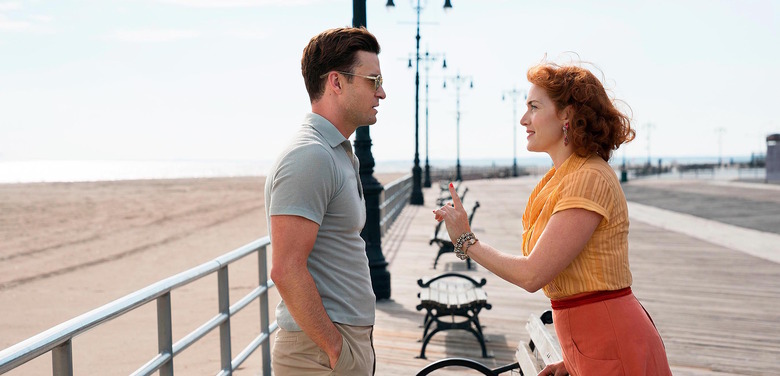 Woody Allen's love affair with a younger, sprightly streaming service continues with Wonder Wheel, the divisive auteur's new film under Amazon Studios.
Returning to his Northeastern roots after flitting about in Hollywood, Rome, and Paris with his past few films, Wonder Wheel takes place in 1950s Coney Island — a familiar setting in which Allen grew up. But populating Wonder Wheel are a few unfamiliar faces to the Allen repertoire: Wonder Wheel stars Kate Winslet, Justin Timberlake, Jim Belushi, and Juno Temple, all first-time collaborators with Allen.
Wonder Wheel Trailer
The Wonder Wheel trailer follows Ginny (Winslet) a Coney Island waitress and wife of a carousel operator (Belushi) who falls for Timberlake's handsome lifeguard Mickey. But things are thrown even more out of whack when Carolina, Ginny's estranged daughter (Temple) and a "marked woman" on the run from her gangster boyfriend, enters the scene and starts to pursue Mickey as well.
It's a classic Allen tragicomedy of words and wits, all set to the bright bustle of the famous Coney Island amusement park. But there's an undercurrent of violence that runs throughout the trailer thanks to Winslet's frenetic and unraveling performance — it's easy to imagine this earning the actress her eighth (!) Oscar nomination. There's no doubt that she deserves another golden statuette, but I'm going to be honest: I hope it's not for a Woody Allen film.
Like many of the actresses who have worked with Allen, Winslet has defended her decision to work with the alleged molester, and it may indeed pay off — she's getting Oscar buzz already for a character she called, "maybe the most complicated female character I've ever had the challenge of grappling with."
Here's the official synopsis for Wonder Wheel:
Four peoples' lives intertwine amid the hustle and bustle of the Coney Island amusement park in the 1950s: Ginny, an emotionally volatile former actress now working as a waitress in a clam house; Humpty, Ginny's rough-hewn carousel operator husband; Mickey, a handsome young lifeguard who dreams of becoming a playwright; and Carolina, Humpty's long-estranged daughter, who is now hiding out from gangsters at her father's apartment.
Wonder Wheel will premiere at the New York Film Festival as the festival's closing night film on October 14, 2017. It will be released in theaters on December 1, 2017.