'Venom' Enlists Jenny Slate To Star In Sony's Spider-Man-Less Spidey Spin-Off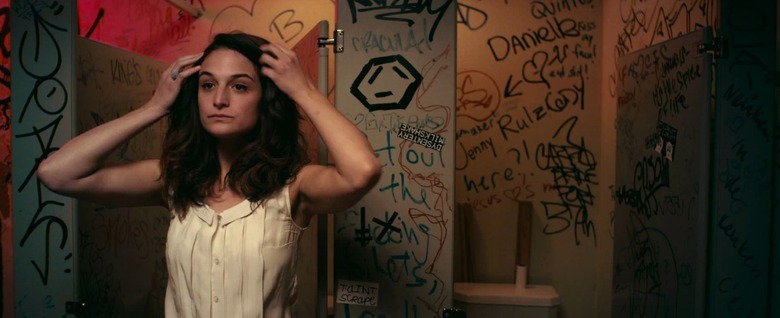 Sony teamed up with Marvel Studios to allow Spider-Man to swing over into the Marvel Cinematic Universe, but that doesn't mean that Sony is content to give up their entire piece of the superhero pie. They still own the rights to dozens of characters in the Spider-Man pantheon, and they're crafting their own separate universe with films like Silver and Black that will try to stand on their own without the web-slinger getting involved. Good luck with that, right?
But while that sounds like a misguided idea, I must admit that they're making some interesting choices so far. First up for them is a Venom solo film, which has slowly gathered an unexpectedly terrific cast. Tom Hardy is playing the title character, and now the latest addition to this cast might make you raise an eyebrow: Jenny Slate (Obvious Child) is now in talks for a Venom role.
Variety has the news, reporting that Slate is currently in negotiations to play a scientist in the upcoming superhero spin-off. Assuming her deal goes through, she'll join Hardy and the previously-cast Riz Ahmed (The Night Of, Nightcrawler) and Michelle Williams (Manchester by the Sea, Blue Valentine), which makes this one of the more eclectic superhero casts in recent memory.
Marvel Studios has always done a fantastic job of pulling in incredibly talented actors to play major roles in their films (it's one of their biggest strengths), but the Sony-owned Spider-Man movies have been hit or miss so far. Tobey Maguire was a fine Spidey for his era, but getting Alfred Molina as Doc Ock in Spider-Man 2 was like striking gold. Years later, Andrew Garfield left a little to be desired as the wall-crawler, but his chemistry with Emma Stone's Gwen Stacy was one of the best parts of that aborted franchise.
But as fascinating as this casting is, I can't help but worry about this script since it's being written by the duo of Scott Rosenberg and Jeff Pinkner, who co-wrote the upcoming Jumanji: Welcome to the Jungle. Pinkner was also responsible for The Amazing Spider-Man 2, so I'm not convinced he's the right person to be crafting the story for any of the characters in this nascent franchise. I love Jenny Slate (her performance as Mona Lisa Saperstein on Parks and Recreation is a treasure) and I love the idea of her stepping into a major superhero movie, but I just hope her talents aren't completely wasted in an underwhelming film.
Venom hits theaters just over a year from now on October 5, 2018.