The Final 'Blade Runner 2049' Trailer Has A Big Cameo From The Original Movie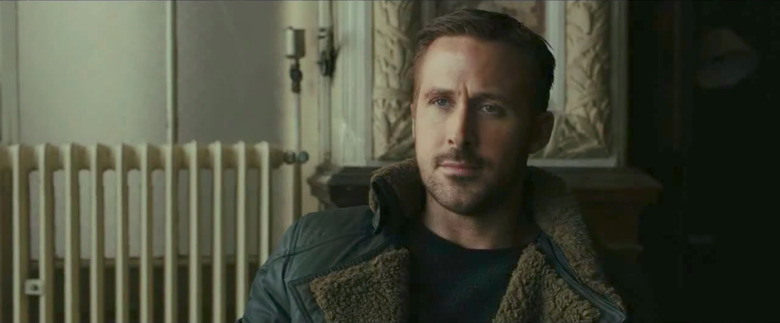 Some characters are lost in time, like tears in the rain. But that's not so with this veteran Blade Runner Los Angeles police officer, who makes a brief return in Denis Villeneuve's sci-fi follow-up, Blade Runner 2049.
The final Blade Runner 2049 trailer not only promises more story and details of the upcoming movie set to be released in theaters later this week, but a peek at a cameo from a returning character. You may not recognize his face, but you'll surely remember those paper origami figures he's so fond of making.
Watch the Final Blade Runner 2049 Trailer
Warner Bros. has kept a tight lid on potential spoilers for Blade Runner 2049, so it's curious — or maybe apt — that the final trailer would reveal more of the movie than any teaser or preview we've seen yet. We're introduced to some of Officer K's (Ryan Gosling) home life and the aftermath of his much-featured fight with Dave Bautista's character.
We get more insight into Jared Leto villainous businessman Niander Wallace as well, who seeks to build a "disposable workforce" out of replicants. "Your laws have changed the hands of progress," Wallace monologues. "The Earth is dying. We need a disposable workforce and I can make millions."
Officer K is charged with stopping Wallace from building his army of replicants by Lieutenant Joshi (Robin Wright), which sets him off on a mission to track down the mysterious Rick Deckard, a former blade runner who went missing 30 years ago, shortly after the events of Ridley Scott's 1982 original. On his way, we are reintroduced with a familiar face who has a familiar quirk: the origami-folding Gaff, a former LAPD blade runner who played a pivotal role in Deckard's ordeals. Much has been analyzed of the origami figures that Gaff folds — here, he folds a small sheep when Officer K meets with him. Make of that what you will.
We already knew that Edward James Olmos was set to reprise his role as Gaff in Blade Runner 2049, but this is the first we've seen of him in the preview footage. It's clear he plays a pivotal role in Officer K's quest to find Deckard, and may even know the whereabouts of the long-missing former blade runner.
Here's the official Blade Runner 2049 synopsis:
Officer K (Ryan Gosling), a new blade runner for the Los Angeles Police Department, unearths a long-buried secret that has the potential to plunge what's left of society into chaos. His discovery leads him on a quest to find Rick Deckard (Harrison Ford), a former blade runner who's been missing for 30 years.
Blade Runner 2049 hits theaters October 6, 2017.