'Paddington 2' Trailer: The Marmalade-Loving Bear Is Back With Some Much-Needed Joy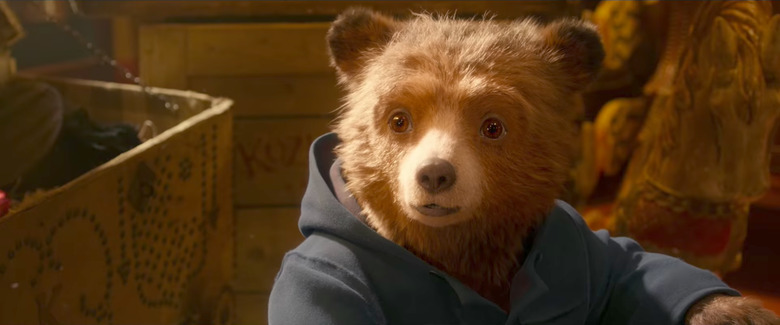 In a week that has felt like an endless surge of bad news and gloom, the Paddington 2 trailer feels like a ray of light in a dark tunnel.
The sequel to the utterly charming 2014 film, Paddington 2 follows the marmalade-loving talking bear (voiced by Ben Whishaw) as he sets off on a mission to buy an antique pop-up book for his aunt's 100th birthday. However, he is soon threatened by a disgruntled actor (Hugh Grant), who uses his skills as a master of disguise to frame Paddington for a crime he didn't commit. Don't worry, while this sounds dire, the Paddington 2 trailer is still chock full of joy and charm.
Paddington 2 Trailer
Nothing fails to lift my spirits like a group of lovable British characters actors — Brendan Gleeson, Hugh Bonneville, Sally Hawkins, Julie Walters, Jim Broadbent, and Peter Capaldi — bumbling around in candy-colored sets and cartoonish costumes while a soft-voiced bear does odd jobs to buy a book for his aging aunt. But Paddington is soon sabotaged by Grant's resentful actor, who unjustly frames Paddington for the theft of the pop-up book and gets him sent to a Wes Anderson-themed prison.
As the villain threatening the titular bear and his scrappy family, Grant has a mischevious glint in his eye that recalls his spunky days as a rom-com heartthrob. I haven't seen him this lively in years, and it's exciting to see him throw his all into the role.
"Paddington looks for the good in everyone!" Hugh Bonneville's character righteously declares, which feels like an apt representation of Paddington 2. Even when situations get dire, there is no end to the joy and charm that permeates the film.  It may seem like hyperbole to say that this trailer is a cure-all for the harsh state of the world right now, but for 2 minutes and 30 seconds, it does feel that way.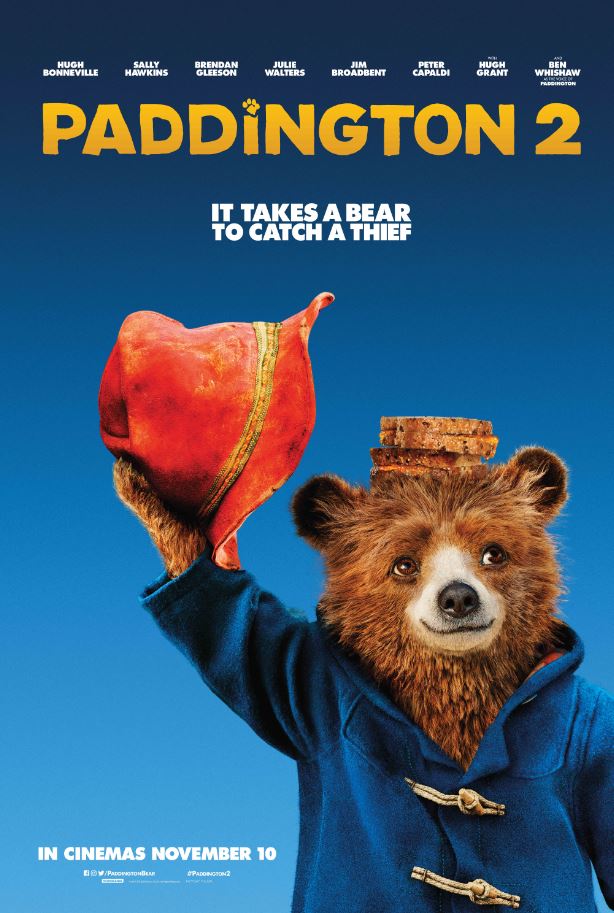 Here's the official synopsis for Paddington 2, directed by Paul King:
The much-anticipated sequel to the worldwide hit family film finds Paddington happily settled with the Brown family in Windsor Gardens, where he has become a popular member of the community, spreading joy and marmalade wherever he goes. While searching for the perfect present for his beloved Aunt Lucy's hundredth birthday, Paddington spots a unique pop-up book in Mr. Gruber's antique shop, and embarks upon a series of odd jobs to buy it. But when the book is stolen, it's up to Paddington and the Browns to unmask the thief...
Paddington 2 is set to be released in the U.K. on November 10, 2017, and U.S. theaters on January 12, 2018.