The 'Halloween' Reboot Casts Judy Greer As Jamie Lee Curtis' Daughter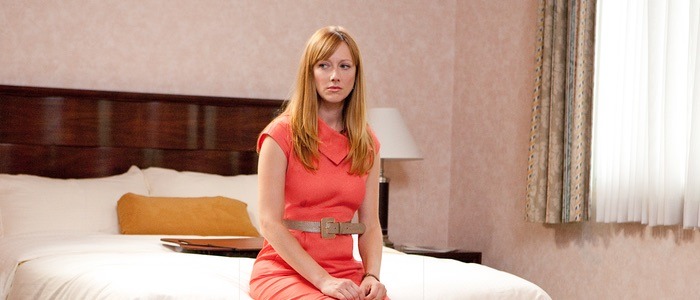 It's officially Halloween season, so how about some Halloween news? The Blumhouse-produced reboot/sequel to John Carpenter's iconic slasher film Halloween is current in pre-production and rumored to begin filming very soon. Recently, original Halloween star Jamie Lee Curtis was confirmed to be returning for the new film, and now another potential cast member has been announced: Judy Greer. Read more about the Judy Greer Halloween reboot casting below.
Pineapple Express filmmaker David Gordon Green is getting ready to bring audiences back to Haddonfield with co-writer Danny McBride (Vice Principals) with Halloween, a film that will serve as both a reboot of John Carpenter's 1978 horror classic as well as a sequel. Jamie Lee Curtis will once again play the part of Laurie Strode, sister to and one of the few survivors of masked serial killer Michael Myers.Deadline reports that Curtis might have finally found some company for the film. Highly talented and highly underused actress Judy Greer is currently in-talks to join the production, playing the part of Karen Strode, daughter of Curtis' character. This wouldn't be the first time in the franchise offspring of Curtis' character Laurie were featured. In Halloween 4: The Return of Michael Myers, Halloween 5: The Revenge of Michael Myers, and Halloween: The Curse of Michael Myers, Laurie's daughter Jamie (played by Danielle Harris in Halloween 4 and Halloween 5 and by J. C. Brandy in The Curse of Michael Myers) figured prominently. In Halloween H20: 20 Years Later, which also starred Curtis, Josh Hartnett played Laurie's son John. The new Halloween, however, is said to be ignoring most of the sequels in the franchise, so it's likely these other children won't come up. Sorry, forgotten Strode kids.
Greer is a great actress who often gets sidelined playing supporting characters who show up for one scene, like in Jurassic World or Tomorrowland. She's currently set to reprise her role from Ant-Man as Mrs. Ant-Man in Ant-Man and the Wasp, which coincidentally stars Halloween: The Curse of Michael Myers' Paul Rudd. Here's hoping Halloween gives her a substantial role she can really sink her teeth into.
Details about the new Halloween have been scarce, but we're starting to get a greater picture of what's in store now that we know that Laurie is returning and that she has a daughter in the film. Regarding the project, co-writer McBride said:
"[I]t's gonna continue the story of Michael Myers in a really grounded way. And for our mythology, we're focusing mainly in the first two movies and what that sets up and then where the story can go from there...Green and I are definitely going to [do] a straight-up horror. Halloween has always been one of my favorite movies of all time. There's a simplicity and an efficiency to that first one that I think allows the movies just to be scary as hell. And so Green and I, our approach is to get back to that."
Halloween opens October 18, 2018.