Optimus Prime Confirmed For 'Bumblebee' Spin-Off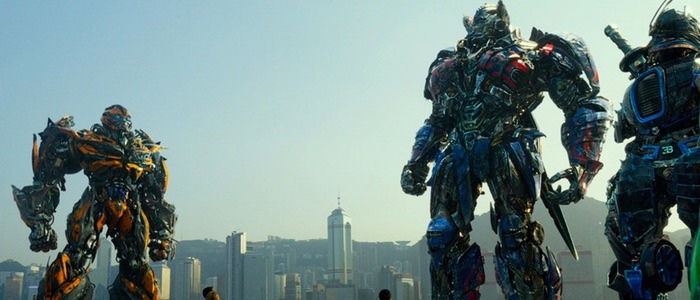 Transformers: The Last Knight, the latest in Michael Bay's monstrous Transformers franchise, may be one of the worst-reviewed films of 2017, but you can't keep those Autobots down. Bumblebee, the first in a probably endless series of Transformers spin-offs, is currently in production. And it looks like a familiar character is following Bumblebee into the spin-off: Optimus Prime will be bringing his big, bulky body along for the ride. See the details involving the Optimus Prime Bumblebee spin-off news below.
If you've had enough of the headache-inducing jumble of clanking bolts that is the Transformers franchise, maybe some potentially smaller spin-offs will appeal to you. Starring The Edge of Seventeen's Hailee Steinfeld and Daddy's Home 2's Jon Cena, Bumblebee will be helmed by Kubo and the Two Strings director Travis Knight and has been described as being more akin to The Iron Giant by producer Lorenzo di Bonaventura:
There are dramatically less Transformers. We hired purposefully Travis Knight, who is a very distinct filmmaker. You can't compete with Michael, you're gonna lose. And also I think the audience wants something different all the time, let's keep them interested. They're gonna get a very emotionally complex story, a very tight story in terms of its location and in terms of its storytelling. In fact it reminds me a little bit of 'Iron Giant' years ago when I did that movie at Warner Bros. It just reminds me a little bit of that where it was very contained and yet it didn't feel small.
Peter Cullen Confirms Optimus Prime In Bumblebee
Despite di Bonaventura's comment about "less Transformers" in the Bumblebee spin-off, it looks like Autobots leader Optimus Prime will be finding his way into the film. Speaking with the CineMovie YouTube Channel, Peter Cullen, who has been providing the voice of Prime since the Transformers animated series in the 1980s, confirmed that we'll be hearing his voice in Bumblebee. Granted, Cullen doesn't confirm he'll be voicing Optimus Prime in the film, so perhaps he's been hired to be the voice of some completely unrelated character. But the odds are that he's voicing Optimus, likely in a cameo.
Cullen has given voice to a host of memorable characters over his long career, including Winne the Pooh character Eeyore in multiple Disney projects and the Predator in the first Predator film. But the actor has long said Optimus Prime is his favorite part, and that he based the performance on his brother:
I was living with my brother Larry at the time. He had returned from service as a Marine in Vietnam, and I told him one day I was going out to audition for a truck.
And he says, "A truck?"
And I said, "Yeah, but he's a hero truck."
"This is really good, Pete, yeah," he said ... "Well, if you're going to be a hero, be a real hero. Don't be a Hollywood stereotypical thing with the yelling and screaming." He said, "Be strong enough to be gentle." And Larry was that way.
I had no idea what the script was going to be. But in effect, the lines just came out, and I just did my brother, Larry.
Bumblebee will hit theaters December 21, 2018.