The Newest 'Star Wars: Forces Of Destiny' Episode Has A 'Rebels' Cameo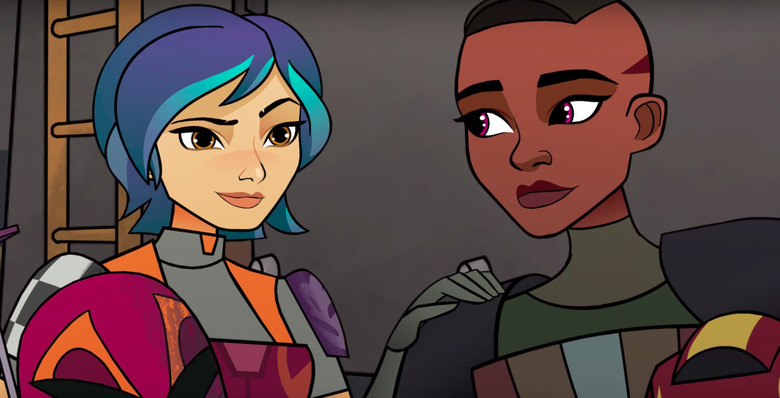 A fan-favorite Rebel returns to the small screen in the new Star Wars: Forces of Destiny episode.
Sabine Wren, voiced by Star Wars Rebels actress Tiya Sircar, steals the show once again in the three-minute-long Forces of Destiny episode, "Newest Recruit." The episode follows Sabine as she brings fellow Rebels character Ketsu Onyo on a covert mission.
Watch the Star Wars Forces of Destiny Episode Below
Ketsu Onyo may be a relatively unfamiliar character — introduced briefly in the second season of Star Wars Rebels but little-seen since — but her voice is not. Yep, that's Gina Torres of Firefly and Suits fame voicing Ketsu, a Mandalorian warrior and old friend of Sabine's. While Sabine joined the early efforts of the Rebellion on the crew of the Ghost, Ketsu worked for Black Sun crime syndicate — though it seems she's beginning to be reformed in the "Newest Recruit" short.
Sabine has brought Ketsu on a mission to recover food from the Empire, even though Ketsu is on the fence about joining the fight. At first bored by the mundane task, Ketsu is granted her wish for "a little more kick" when the two are suddenly faced with attacking Stormtroopers. The two of them fight their way out and are ultimately saved by Hera Syndulla. And it seems the excitement paid off for Ketsu — Sabine's influence seems to have brought yet another once-criminal to the heroic side, bringing an end to the arc of the "Newest Recruit."
The animation for these Forces of Destiny shorts — which were set to hit the web after its Disney Channel broadcast debut — is still pitifully flat and stiff, but it is encouraging to see more canonical stories that are centered around the women of the Star Wars universe. Like Story Group member Carrie Beck previously explained:
"One of the opportunities here was to tell the stories in between the larger moments and imagine some of the ways our characters have crossed. It's all part of the larger swath of storytelling."
"The Newest Recruit" was released on Disney's YouTube channel after the first of two 30-minute TV specials centered around female characters such as Rey (Daisy Ridley), Jyn Erso (Felicity Jones), Princess Leia (Shelby Young), Ahsoka Tano (Ashley Eckstein), and Padmé Amidala (Catherine Taber) aired on Disney Channel at 8 p.m. Sunday.
The second half-hour special premieres on the Disney Channel on October 29, 2017, at 8 p.m.