Jon Hamm Joins 'Good Omens' In Expanded Role As The Archangel Gabriel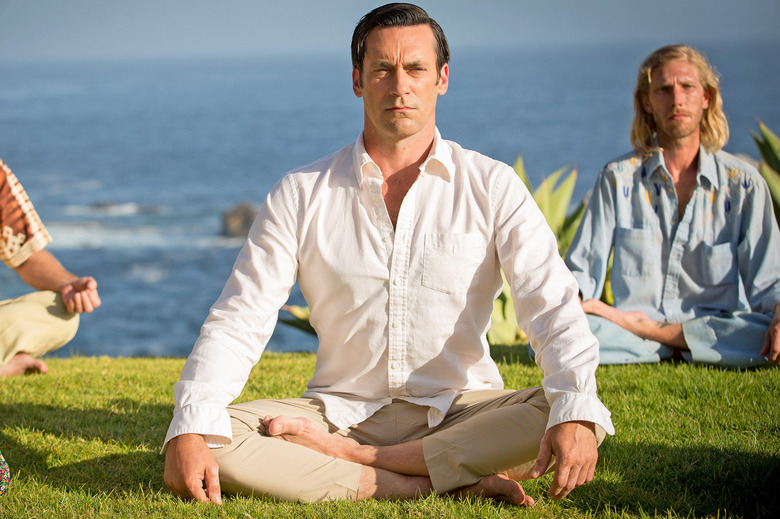 Jon Hamm may look like an angel and now he finally gets to play one in the Amazon fantasy series, Good Omens.
Jon Hamm joins Good Omens to play the archangel Gabriel in Neil Gaiman's miniseries adaptation of his and Terry Pratchett's 1990 apocalyptic novel. While Gabriel, who acts as God's messenger, appeared only briefly in the book, Gaiman is expanding the role for the miniseries now that Hamm has been cast.
Gabriel appears midway through the book to deliver a message to Michael Sheen's dawdling Aziraphale, the angel who has allied himself with David Tennant's demon Crowley to stop the Apocalypse. It's a fleeting cameo that has been expanded into a full-time role thanks to Gaiman and the high-profile casting of Hamm, according to Variety. Gaiman said of Hamm's casting:
"The leader of these angels is Gabriel. He is everything that Aziraphale isn't: he's tall, good-looking, charismatic and impeccably dressed. We were fortunate that Jon Hamm was available, given that he is already all of these things without even having to act. We were even more fortunate that he's a fan of the books and a remarkable actor."
The Baby Driver actor was a longtime fan of the comedic fantasy novel, but confessed that he thought the story was impossible to film. He was right in some regards — Good Omens may be impossible to make into a movie, but it's shaping up to be a stellar miniseries. Hamm said:
"I read 'Good Omens' almost 20 years ago. I thought it was one of the funniest, coolest books I'd ever read. It was also, obviously, unfilmable. Two months ago Neil sent me the scripts, and I knew I had to be in it."
Even if the pitch-perfect casting of Hamm hadn't taken place, Gaiman — who is writing and adapting the series himself with the late Pratchett's blessing — said he had been planning to lobby for giving the angels more of a presence in the screen adaptation. And before Pratchett passed away in 2015, the two of them had even discussed writing a Good Omens sequel.
"Once we had finished writing Good Omens, back in the dawn of prehistory, Terry Pratchett and I started plotting a sequel," Gaiman said. "There would have been a lot of angels in the sequel. When Good Omens was first published and was snapped up for the first time by Hollywood, Terry and I took joy in introducing our angels into the plot of a movie that was never made. So when, almost thirty years later, I started writing Good Omens for TV, one thing I knew was that our angels would have to be in there."
The upcoming six-episode miniseries is a co-production of Amazon and BBC Studios. Good Omens is set to premiere on Amazon Prime in 2019, before airing on BBC Two in the U.K.