Luc Besson's 'Lucy 2' Is Still Happening, And It's Thanks To 'Valerian'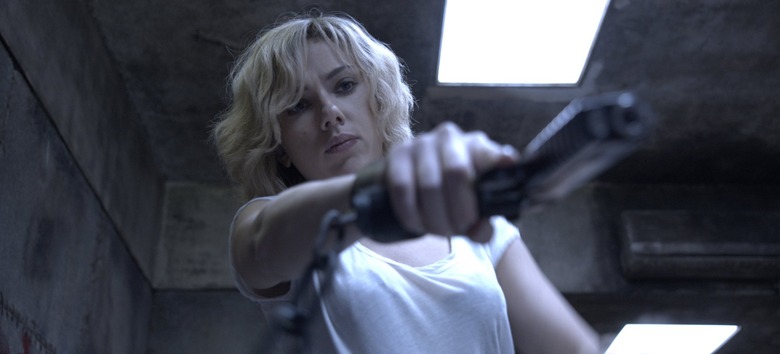 Lucy was the film that helped launch star Scarlett Johansson into the coveted "bankable movie star" category, proving that the prestige actress-turned-Avenger could carry a successful blockbuster movie. Why that hasn't translated into a Black Widow movie yet, we'll never know, but it has translated into a sequel for the commercially successful 2014 sci-fi film.
Director Luc Besson is currently working on a script for Lucy 2, with Besson's EuropaCorp confirming that the sequel is officially moving forward. And you can thank his more recent movie, the massive box office bomb Valerian and the City of a Thousand Planets, for that.
At a recent shareholder meeting in Paris, EuropaCorp CEO Marc Shmuger told Variety that the company is readjusting their movie line-up after the commercial failure of Besson's passion project, Valerian, whose meager earnings at domestic and international box offices caused a sharp drop in EuropaCorp shares. Shmuger stepped in after CEO Edouard de Vesinne was laid off following the Valerian disappointment, and has announced that the company will turn its focus to action thrillers and science-fiction films, with an aim of producing two or three English-language films a year.
Out of this readjustment comes Lucy 2, and Shmuger says Besson has already written a script. There's no word on whether Johansson will return for the sequel...or whether she actually can, considering her character's fate at the end of the movie.
There's no more information about a potential release date for Lucy 2 either, as Besson begins shooting an untitled English-language action thriller with a female lead — based on an original idea and script by Besson — next month.
Besson remains busy, despite the colossal failure of Valerian, a passion project he had developed for years. It helps that he has the undisputed backing of EuropaCorp, which Besson founded in 1999. The company's unique financing model has also helped EuropaCorp quickly recover, even after releasing commercial flops. And despite Valerian being its most publicized bomb, the company's ventures into English-language films of various genres like The Circle, Shut In, Nine Lives, and Miss Sloane through its U.S. distribution venture, RED, also caused EuropaCorp to take a hit.
Back to Lucy: The end of the film eschewed a conventional sci-fi blockbuster ending and went slightly philosophical, à la Spike Jonze's similar AI-centric, Johansson-starring indie Her. It's difficult to imagine how Besson could write his way out of that ending and continue the story in a sequel, but I would be curious to see how he does it. It's possible he could take the same concept of the first movie — a woman becomes an unwitting drug mule for a South Korean gang, achieving a higher state of being after the drugs leak in her abdomen — but with a different actress and story. That would be the easiest route to take, but if he manages to continue Johansson's Lucy's story, then that would be quite an ambitious and weird sequel.