'Father Figures' Trailer: Ed Helms & Owen Wilson Go Looking For Their Real Dad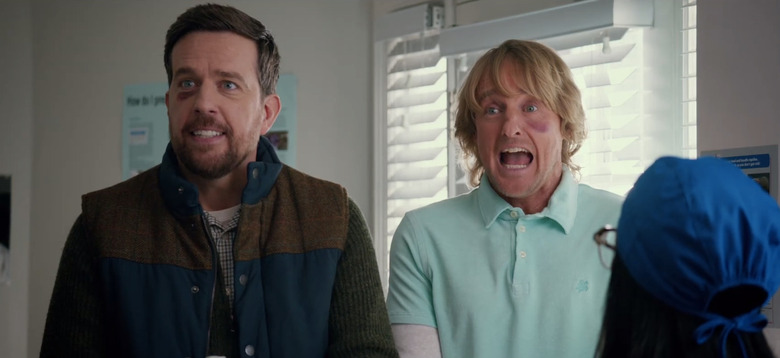 Daddy's Home 2 will already be bringing some fatherly love to the holidays in November, but just before Christmas, another comedy about fathers and sons will be arriving in theaters.
Father Figures (formerly known as Bastards) is the long-delayed comedy starring Owen Wilson and Ed Helms as two brothers who learn that everything they've been told about their father was a lie. So they go in search of their real father by visiting a few likely candidates from their mother's promiscuous past. Watch the Father Figures trailer below to see if this will be worth seeing this holiday season.
Below is the red band trailer, but if you'd rather have the more tame version, there's a green band trailer too.
Watch the Father Figures Trailer
After seeing this trailer, it's not hard to see why this movie was delayed. Though the premise for a patriarchal Mamma Mia! sounds like it would be fun, there's nothing in this trailer that really made me laugh out loud. The only part that pulled a smirk from me were the moments with Katt Williams, but those scenes were already in the first trailer that was released over a year ago.
Perhaps the presence of J.K. Simmons, Christopher Walken, Ving Rhames, and Terry Bradshaw (as himself) as the potential father figures will make this an amusing adult comedy this winter, but so far I'm not impressed. Not even the presence of Glenn Close as the mother at the center of the story or an appearance by Harry Shearer do much to elevate the proceedings.
Father Figures marks the directorial debut of Lawrence Sher, the cinematographer from The Hangover movies, and it doesn't seem like he picked up enough tricks from one of the most successful comedy franchises of all time to make his own attempt at R-rated comedy work very well. But maybe the better parts of the script by Office Christmas Party scribe Justin Malen just didn't make the trailer. We'll just have to wait and see in December.
Owen Wilson and Ed Helms are Kyle and Peter Reynolds, brothers whose eccentric mother raised them to believe their father had died when they were young. When they discover this to be a lie, they set out together to find their real father, and end up learning more about their mother than they probably ever wanted to know.
Father Figures hits theaters on December 22, 2017.