'Star Wars: Forces Of Destiny' Trailer: Two 'Star Wars' Specials Are Coming To The Disney Channel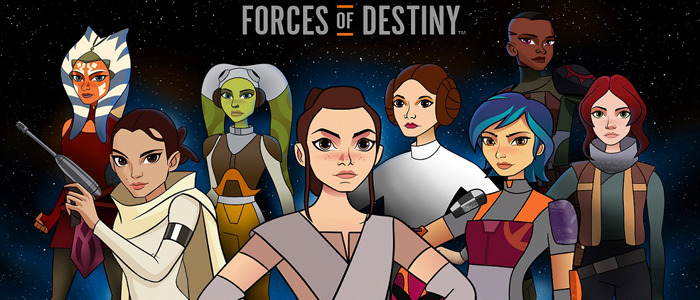 Earlier this year, when we compiled the first eight Star Wars: Forces of Destiny short films for you to watch in one place, we heard there would be a new batch of shorts coming later in the year. That time is nearly upon us: a new trailer has been released and promises two 30-minute TV specials coming to the Disney Channel next month, complete with never-before-seen content. Watch the newest trailer below, and refresh your memory about what these shorts are all about.
Star Wars Forces of Destiny trailer
The press release says the specials will include "a total of eight never-before-seen installments" along with compilations of the popular animated shorts that have already been released that feature Rey (Daisy Ridley), Jyn Erso (Felicity Jones), Sabine Wren (Tiya Sircar), Princess Leia (Shelby Young), Ahsoka Tano (Ashley Eckstein), and Padmé Amidala (Catherine Taber). The new shorts will also include characters like "Han Solo, Hera Syndulla, Finn, Maz Kanata and many others," so Star Wars vets John Boyega, Matt Lanter, and Lupita Nyong'o will be getting in on the voiceover action.
Disney launched Forces of Destiny this summer primarily as a way to shine a light on the female characters in the Star Wars universe, but Lucasfilm president Kathleen Kennedy rightly pointed out that the short films are "for anyone who has been inspired by Leia's heroism, Rey's courage, or Ahsoka's tenacity." I've seen some man-children complaining about this online, but it's obvious that their feelings are the furthest thing from Disney and Lucasfilm's thoughts when it comes to these shorts – they're finally turning their attention to the young girls who often feel underrepresented in major franchises like this, and that's a really cool thing.
It's also worth noting that these shorts are all canonical. Like everything else involving Star Wars, they're run past the Lucasfilm Story Group to ensure the timing and details all make sense in the larger context of the franchise. As Story Group member Carrie Beck previously explained:
"One of the opportunities here was to tell the stories in between the larger moments and imagine some of the ways our characters have crossed. It's all part of the larger swath of storytelling."
So expect some crossover between the characters in these new installments. The first batch of short films debuted on Disney's YouTube page and was eventually collected into a TV special of their own; this time it sounds like the reverse will happen, and the new shorts will hit YouTube after they premiere on television.
The new series of Star Wars: Forces of Destiny shorts will debut on the Disney Channel on October 1, 2017, and October 29, 2017, at 8 pm.