'Stranger Things' Season 2 Unveils Some New Photos, Plus Details About This Season's "Shadow Monster"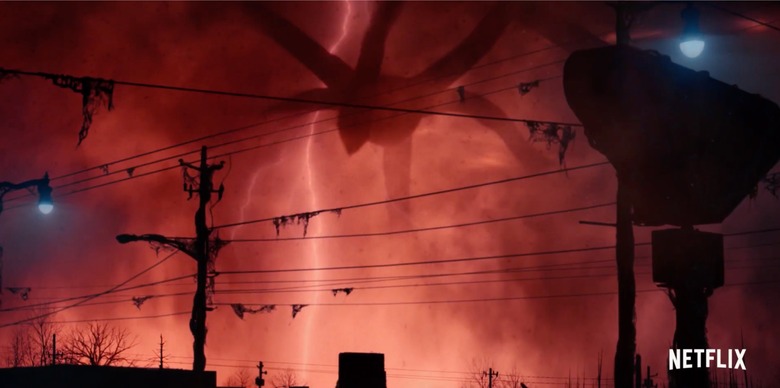 After what feels like a long wait, we're finally less than a month away from Netflix's highly-anticipated Stranger Things season 2 – or Stranger Things 2, as series creators Duffer Brothers would prefer we call it. They're leaning hard on the whole "the second season feels like a movie sequel" vibe. And since every good sequel ups the ante in some way from the original, they're doing the same: if you thought the Demogorgon was bad news, wait until you get a load of the "shadow monster" that will appear this season.
Read more about the terrifying new creature and see some new photos of those adorable kids below.
The Stranger Things season 2 shadow monster was first teased in the trailer this summer from San Diego Comic-Con, as a shell-shocked Will Byers (Noah Schnapp), still feeling negative effects from his time trapped in the Upside Down, begins seeing visions of the Upside Down bleeding over into real life. This includes a massive creature menacingly hanging in the air outside a Hawkins, Indiana arcade. In a new chat with Entertainment Weekly, Matt Duffer explains how they're raising the stakes this time around:
"Our big reference for [the demogorgon] season 1 was mostly Jaws. It's a shark and, the other dimension is the underwater. So there has to be something more sentient and that's that big thing in the sky...
There's an H.P. Lovecraft sort of approach, this inter-dimensional being that is sort of beyond human comprehension. We purposely don't want to go too much into what it is or what it wants."
It'll be fascinating to see whether Matt meant that they didn't want to explain too much about what the creature is in a pre-show interview, or if that's a mentality that will translate to the actual show. How much will the characters actually learn about this creature? Ross Duffer's comment may provide an answer:
"I think the difference is you don't really see how it's all tied together until later. But it's all connected to this singular threat which is tied into this shape that Will sees in the sky. Will is the way through which we're able to understand what's going on."
Sounds like there will be a point at which everything begins to come together for these characters, so that's good to hear. I think the first season worked really well because the otherworldly stuff wasn't explained too much, but it makes sense for Will, Mike, Eleven, and the rest of the gang to start learning more about those elements as the series progresses.
Speaking of Eleven, EW also has a new batch of photos from the upcoming season. Head over to their site to scroll through them all, but I'll drop a couple of my favorites below.
And finally, I'll wrap this up with a fake trailer Netflix recently released called Love in the Upside Down that imagines what the first season's love triangle might be like if it were a movie unto itself:
Every episode of Stranger Things 2 will be available beginning October 27, 2017. I don't know about you, but I'll be clearing my weekend and doing a good old-fashioned binge session.