'Scanners' TV Show Is Back In Development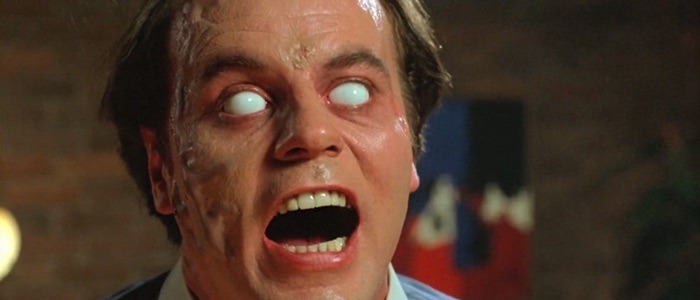 Remember Scanners? It's David Cronenberg's 1981 horror shocker featuring a scene where a man's head explodes, and then you rewind the scene and play it back to watch the explode head in slow motion. Now it looks like the previously rumored but never realized TV series adaptation of the film is back on. Will a head explode every single week? It better, or those ratings might slip. Read more about the Scanners TV show below.
Back in 2011, we wrote about how Dimension Films was developing a Scanners series with Alexandre Aja (High Tension, The Hills Have Eyes) as executive producer and a possible pilot director. Then nothing happened. Now Deadline, by way of ScreenCrush, reports that the show is back on. Per Deadline, multiple studios – including Lionsgate, Paramount and Skydance – were all vying for the rights to the series, but Michael Ellenberg's Media Res and Bron Studios clinched the deal.
The Weinstein Company's Dimension Films had owned the Scanners rights for years, but after being unable to develop a show from the property, those rights lapsed. Now Scanners will live again. Before Scanners, Cronenberg had specialized in horror films with sexual undertones, like Rabid and The Brood. Scanners eschewed those undertones, but it was by no mean a mainstream film from the Canadian filmmaker. Cronenberg had originally intended to have the now-infamous exploding head sequence be the very first scene of the film, but test audiences were so put off by this instant visual assault that Cronenberg moved it back towards the end of the opening scene, rather than the very first image on screen.
In the film, Scanners are individuals with great psychic powers. The most powerful of all is Darryl Revok (Michael Ironside), who uses his abilities for less-than-desirable activities (like the aforementioned head exploding). The Scanners find themselves hunted by a government organization that wants to use their abilities for their own nefarious purposes. In addition to Ironside, Scanners also starred Jennifer O'Neill, Stephen Lack, and Patrick McGoohan. Reflecting on the film's legacy years later, Lack observed:
"The film itself was groundbreaking, but I never realized it [would have such a legacy]. I had faith in David. I sensed his intelligence and I know from myself that the good stuff takes a while to understand. The film is very layered—as are most of David's movies—even though it was written under extreme pressure. I remember being at rushes and not really getting what I was seeing. It all seemed so blank, the sets were sparse, and everything seemed to be white in the background. Everyone else watching was thrilled with the footage. I said: 'It looks kinda blank to me,' and someone replied: 'That's David's style,' to which I answered—like the bitch I can be sometimes—'Style? It looks like a fu*kin' dentist's office!' Of course, I was later to grow to appreciate such backgrounds and even the occasional nurse's uniform. That's progress."
If you've never seen Cronenberg's Scanners, it's currently streaming on FilmStruck.