Apple Sets Sights On Steven Spielberg, Reese Witherspoon, And More For Its Original TV Programming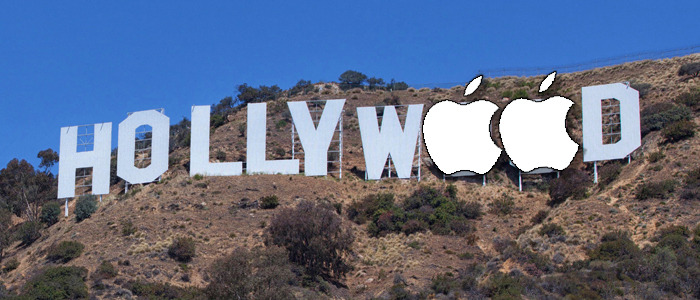 We know television is getting more and more expensive to produce, but with $260 billion to work with, Apple probably isn't too worried about being able to cough up enough cash to entice major names for its planned expansion into original television programming. According to a new report, the company has set their sights on a reboot of Steven Spielberg's Amazing Stories and a Reese Witherspoon and Jennifer Aniston morning show comedy as their potential splashy debut into the high-competition world of streaming TV.
This morning, The Hollywood Reporter published a piece that gives an inside look at the company's plans for Apple original TV programming, and even with their peek behind the curtain, the company's ultimate plans are still shrouded in secrecy. But here's what they learned: Apple executives Zack Van Amburg and Jamie Erlicht, who previously worked at Sony and are now Apple's heads of content acquisitions and video strategy, are taking meetings all over town in an attempt to lock down the company's first big batch of TV shows. They're apparently looking for buzz-worthy projects along the lines of Game of Thrones, Breaking Bad, and The Crown – which is obviously easier said than done.
Apple was reportedly close to scoring a deal for Ryan Murphy's One Flew Over The Cuckoo's Nest prequel show Ratched, but Netflix ended up sealing the deal on that one by giving it a two-season guarantee and paying "a jaw-dropping sum" to keep the rights to stream American Horror Story alongside Hulu, where AHS is also streaming.
But right now, one of the projects Apple has bid on is a modern version of Steven Spielberg's Amazing Stories, an anthology series he created that ran on NBC from 1985 to 1987.
This wasn't just some show that Spielberg slapped his name on as an executive producer: he was invested in this, writing the stories for 18 out of the 45 total episodes and directing a couple of them as well. And as we've seen with recent anthology shows like HBO's Room 104, that's a great format for getting big name directors to come over and direct a single episode without much of a time commitment; the original series featured episodes directed by Clint Eastwood, Martin Scorsese, Joe Dante, Burt Reynolds, Bob Balaban, Lesli Linka Glatter, Irvin Kershner, Robert Zemeckis, Mick Garris, Tobe Hooper, Brad Bird, and Danny DeVito, just to name a few. A revival would be a great way for Apple to pad out their resume early with a ton of high-profile filmmakers stopping by to get involved. In fact, earlier this year we wrote about a handful of talented people who are already attached as writers.
The tech company has also had meetings with Breaking Bad and Better Call Saul mastermind Vince Gilligan, Bryan Cranston, and Battlestar Galactica and Outlander showrunner Ron Moore, all of whom Van Amburg and Erlicht worked with when they were still with Sony TV. No deals have been signed yet, and Apple is said to be looking at people like Ryan Coogler (Black Panther) and Mike Schur (Parks and Recreation, The Good Place) for potential opportunities as well.
Apple is also looking to partner with Reese Witherspoon and Jennifer Aniston for their untitled small screen series about TV morning shows (read more about the show here). That would be a major coup, although questions still remain about how exactly they plan to distribute this content once the ink on the contracts are dry. We don't have answers yet, but since one analysts estimates Apple will spend $1 billion in its first year of original programming, I expect we'll be finding out very soon.