'Venom' Might Enlist Michelle Williams To Star Opposite Tom Hardy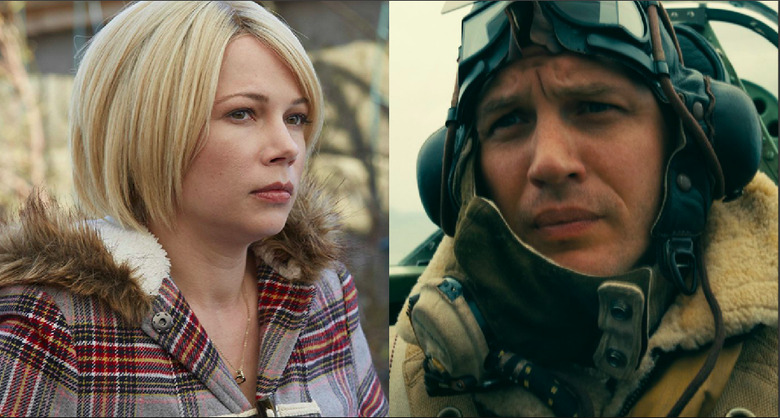 In an intriguing bit of casting, Michelle Williams is in talks to play the female lead in Venom, which stars Tom Hardy as the Spider-Man supervillain-turned-antihero.
That would pit an Oscar-nominated actress against an Oscar-nominated actor in a superhero movie intended to launch a Sony-centric Marvel universe without their mainstay hero, Spider-Man, showing up at all. This could be more of an interesting hot mess than it initially appeared.
Williams is in talks with Sony to costar in Venom as a district attorney and possibly Hardy's love interest, Variety reports. If cast, she'll join rising star and Emmy-winning actor Riz Ahmed in the film, which Zombieland's Ruben Fleischer is set to direct.
The Venom movie will still be a standalone film that has no relation to Spider-Man, who is now part of the Marvel Cinematic Universe thanks to a deal between Marvel and Sony, and will reportedly launch a superhero cinematic universe based on the Marvel characters that Sony has the film rights to. This includes Venom and other Spider-Man-related characters like Silver Sable and Black Cat. We have a full breakdown of the upcoming and potential films in Sony's planned Spider-Man extended universe without Spider-Man here.
A little confused? Sony owned the film rights to Spider-Man and all his related supporting characters since the early 2000s, but after the studio struck a deal with Marvel in 2015 allowing Marvel Studios to use him in the MCU, the webslinger became a little too booked by Marvel to become the focal point of a new cinematic universe — which Sony still intended to launch. After toying with the idea of kicking off a cinematic universe with The Sinister Six, Sony turned to Venom instead and booked genre stalwart Tom Hardy in the lead role.
A cinematic universe without Spider-Man at the center sounds misguided at best and a disaster at worst. But with Hardy in the role of Eddie Brock, the human who bonds with the alien symbiote known as Venom, and Williams to reportedly play opposite him, Venom is starting to look more promising. Hardy has been known to revive or add an interesting flair to genre films (Mad Max: Fury Road and The Dark Knight Rises), and Williams consistently picks quality prestige pictures or out-of-the-box projects. However, award-nominated talent is no guarantee for success — just look at Halle Berry's Catwoman or 2016's Suicide Squad.
Venom is set to hit theaters on October 5, 2018.