Hulu Saves '30 Rock' After It Leaves Netflix Streaming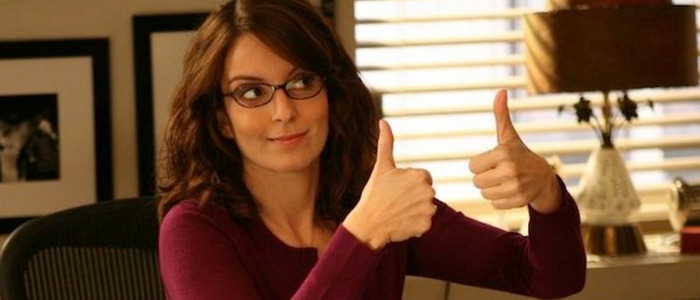 The classic Tina Fey comedy 30 Rock has found a new home — aside from 30 Rockefeller Plaza, of course.
After sitting comfortably in the Netflix Recommended For You section for years, 30 Rock is moving to another streaming platform, Hulu, which has picked up the nice habit of saving beloved TV shows whose contracts expire with Netflix.
Thanks to a new agreement between Hulu and NBCUniversal Television and New Media Distribution, all seven seasons of 30 Rock will be available exclusively on the subscription streaming service, Hulu announced on Wednesday.
All episodes of 30 Rock will begin streaming on Hulu on October 1, 2017, on the same day that the flagship NBC comedy series was announced to leave Netflix. So there will be no time lost for the nerds currently going through a marathon of mid-aughts series (me included). It's yet another notch in Hulu's belt, which has saved shows like Buffy the Vampire Slayer from non-streaming purgatory after the iconic '90s paranormal-horror series left Netflix earlier this year. Well, to be fair, Buffy was already streaming on Hulu before it was dropped by Netflix, but Hulu is quickly becoming a haven for series that have gained huge a following through Netflix streaming.
It's an interesting shift in dynamics for the streaming services — Netflix built up much of its early following through the availability of beloved and cult TV series like 30 Rock, Friday Night Lights, Buffy the Vampire Slayer, and Firefly. Now those series are slowly being dropped one by one as the streaming giant looks to making original TV series and feature films. And while Hulu is getting in on the original content field, even beating out Netflix at the Emmys this year with The Handmaid's Tale, it's not above featuring the beloved shows that made it all possible.
Next year, 30 Rock will be joined by NBC shows Parenthood, There's Johnny, Made in Chelsea, and Face Off, which will be available on Hulu later this year and in early 2018. Here is the information about those separate series provided by Hulu below:
Parenthood. The family favorite, hit drama series will stream in its entirety in early 2018 on Hulu. The critically-acclaimed series, which aired for six seasons, has remained popular with viewers since its finale.
There's Johnny. Paul Reiser's highly-anticipated series, There's Johnny, will make its debut on Hulu.
Made in Chelsea. The first 13 seasons of the BAFTA award-winning, reality television series from the UK will make their US SVOD debut on Hulu. Through the deal, the complete series will be made available to stream in the US on Hulu later this year. 
Face Off. The first 10 seasons of SYFY's hit reality competition series, Face Off, will become available to stream on Hulu. The series will make its SVOD debut in early 2018.
These shows add to Hulu's growing catalogue of NBC shows, including the recently-added Will & Grace as well as current seasons of This Is Us, Blindspot, and Saturday Night Live.