The 15 Worst Horror Remakes Ever Made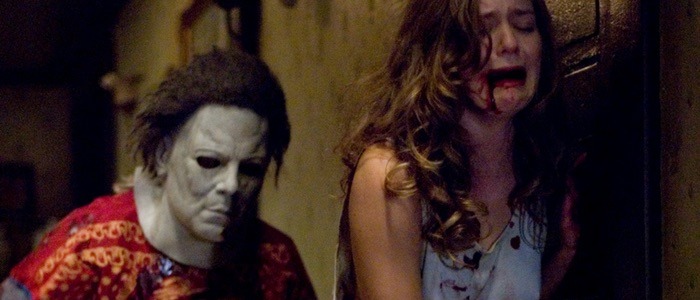 This week, a remake of Flatliners will hit theaters and leave us all wondering: "Why?" Look, remakes of horror films are nothing new, but was anyone actually eager for a Flatliners remake? Besides, there already was a film that came very close to being a Flatliners remake; it was called The Lazarus Effect, and it was terrible.
Speaking of terrible, in honor (maybe?) of Flatliners, I've gone ahead and broken down the 15 Worst Horror Remakes. You may disagree with these picks; in fact, I know for certain that many people enjoy at least one or two of these films. That's fine! I welcome your defense of them! But these are the bottom of the barrel. The rotten apples. The major disappointments. These are the worst horror remakes.
15. Thirteen Ghosts
How it fails to understand the original:
Look, I won't sit here and tell you William Castle's 1960 fright flick 13 Ghosts is some sort of masterpiece, but it might as well be when you compare it to the 2001 remake Thirteen Ghosts, or Thir13een Ghosts, if you want to be a jerk about it. Castle's chills and thrills are traded in for bombast, unfunny jokes and Matthew Lillard stumbling around the film like he's about to lose his damn mind.
Why it's bad on its own:
Even if Thirteen Ghosts wasn't a remake, it still stinks. There's no nuance to the film, which is fine, but it also doesn't understand how to be an over-the-top spookshow either. It just sort of exists, occasionally hurling shrieking ghouls at you. Which is a shame, because the makeup work created for the ghosts is actually quite impressive. Too bad we barely get to see any of it, since the ghosts are constantly filmed in jittery, quick cuts, which I guess is supposed to be scary but will probably just give you a headache.
14. Friday the 13th
How it fails to understand the original:
It really shouldn't be that hard to remake a Friday the 13th film. The formula is painfully simple: Jason, a hulking, hockey masked ghoul, runs around offing horny teens who have dared to invade his summer camp. There, that's it. Why is that so hard to grasp? This 2009 remake doesn't get it. It's slick where it should be gritty, and while it strives to achieve some of the playfulness of the original franchise, it's way too far up its own ass to pull that off. There's a scene in this movie where Jason shoots someone with a bow and arrow, then the scene cuts to Jason's childhood bedroom, where an archery trophy can be viewed. As if the filmmakers had a meeting and said "Okay, we really need to explain why Jason knows how to shoot a bow and arrow." No you don't!
Why it's bad on its own:
There's not a single character in this movie worth paying attention to. Yes, the original Friday films were loaded with disposable characters, but they always had at least one or two people you gave some sort of a crap about. Here, it doesn't matter which of these goons Jason goes after first. There's also an abundance of pot-based humor which feels completely out of place; the entire opening of the film is a group of youngsters trying to find a mythical marijuana field. Which I guess Jason is growing? Who the hell knows.
13. The Hitcher
How it fails to understand the original:
Robert Harmon's queasy 1986 thriller The Hitcher pitted Rutger Hauer against C. Thomas Howell, and it was kind of wonderful. This 2007 remake trades in the things that made the 86 film unique, including a not-so-subtle queer subtext, for a boring chase movie. Sean Bean is pretty good as the murderous Hitcher, but he can't hold a candle to Rutger Hauer's almost otherworldly performance.
Why it's bad on its own:
Do you like point-and-shoot movies, where the director apparently sets up their camera, lets it roll and then knocks off a bit for a nap while the actors are performing? If so, you'll love The Hitcher! The film's director,  Dave Meyers, has never made another feature film after this, and I'm not even a little surprised about that.
12. When A Stranger Calls
How it fails to understand the original:
The 1979 When A Stranger Calls is another one of those films that isn't exactly great, but has a lot of charm. The film takes the urban legend about crank calls coming from inside the house, and turns it into a concise little thriller. The 2006 remake, from Con Air director Simon West, is just an excuse to crank the soundtrack up with loud noises with the hopes of making tweens squirm in their seats. The original film may be a bit tame in terms of gore, but it's also kind of a mean little movie. The remake is toothless.
Why it's bad on its own:
Here are some things the 2006 When A Stranger Calls remake considers to be scary: lights going on; quick close-ups on unringing phones; wind blowing some bushes. There's absolutely nothing here that even approaches frightening, or even tense. At one point, our heroine (Camilla Belle) runs past some bushes that are violently shaking in the wind, and the soundtrack booms, as if this is supposed to be scary. They're bushes! Get out of here.
11. The Omen
How it fails to understand the original:
Richard Donner's 1976 chiller about the offspring of Satan becomes...whatever this is. It seems like the only reason The Omen was remade in 2006 was because someone realized they could release it on 6/6/2006, build a marketing campaign around that, and assume that's good enough. Donner's original slowly builds itself up with dread, punctuated by occasionally shocking death scenes. It also plays around with the notion that maybe, just maybe, the kid at the center of it all isn't the spawn of Satan, and that his father (Gregory Peck) might be going crazy. The remake doesn't have time for any of that. It somehow both speeds the narrative up while also remaining painfully slow.
Why it's bad on its own:
How do you take a movie about a child that may be the son of the devil and somehow make it boring? Ask John Moore, who directs this remake as if he has a bet going on with the crew about which scene he can make the most lifeless. Poor Liev Schreiber is trying his best to carry this remake on his back over the finish line, but he just can't get there.
10. The Haunting
How it fails to understand the original:
Shirley Jackson's The Haunting of Hill House was adapted into a sparse, super-creepy film by Robert Wise in 1963. It's subtle, and psychological, and effective. The 1999 remake, from Speed director Jan de Bont, is none of those things. The 1999 film thinks more is better, and overloads itself with big, loud special effects, including a CGI skeleton that jumps out of a fireplace and a giant swinging pendulum that knocks someone's head off. Jackson's book and Wise's film were all about the psychological elements of horror. The remake just wants to scream "BOO!" in your ears.
Why it's bad on its own:
Even if de Bont weren't working with the subtle original, this film is a pile of garbage. There's nothing scary about a CGI ghost that jumps out of a painting, I'm sorry. There just isn't. De Bont is an action filmmaker, and he shoots this thing like an action movie, not a horror film, and it suffers as a result. And Lili Taylor, a normally fantastic actress, was apparently ill equipped to work in such a special effects-driven feature, having come from a primarily indie background. It shows – she seems lost among all the bells and whistles of this junk.
9. The Thing
How it fails to understand the original:
John Carpenter's The Thing is a remake itself, but it's one of the best possible examples of a remake. The remake of Carpenter's film, 2011's The Thing, is not. The case can be made that this is technically a prequel, not a remake. But no, I refuse to accept that. This film is also called The Thing, so it's therefore a remake. Don't play your title games with me. While Carpenter's film is an icy, gross-out work of terror, complete with some of the most mind-blowing special effects you've ever seen, the 2011 is rife with terrible CGI, none of it very convincing. What made the Carpenter film so disturbing was the fact that the practical effects really made it seem like it was all happening. Here, everything looks like a cartoon.
Why it's bad on its own:
A story like this – involving a team of isolated scientists trapped in a claustrophobic space with an alien lifeform – should seem, well, claustrophobic. Instead, director Matthijs van Heijningen Jr. shoots everything wide, giving the film the feeling of being shot on Hollywood backlot sets and not taking place somewhere remote. Also, while there are some good actors in this film, like Mary Elizabeth Winstead, none of them seem to know what they're doing. Worse than that, these characters, who were meant to be isolated together for months, have zero chemistry together. It's as if they just met the minute before the director yelled "Action!"
8. Halloween
How it fails to understand the original:
Okay, this is the one that's going to get me in trouble. I know that many people actually like this movie. Some even have proclaimed it to be better than John Carpenter's original (they're wrong, by the way). I'm sorry, I just don't see it. Rob Zombie, who has a pretty good visual eye, is a terrible screenwriter. He takes literally everything that made Carpenter's sleek, low-key film special and butchers it. Worst of all, he gives Michael Myers some dumb backstory where he's a sad boy from a broken family. The whole point of Michael Myers in Carpenter's original was that he was the ultimate evil – a seemingly normal boy from a normal suburban family who was none the less a cold blooded killer. Zombie's film wants us to feel bad for Michael; why? We're not supposed to have sympathy for Michael Myers. We're supposed to fear him as a cold, unfeeling, unstoppable monster.
Why it's bad on its own:
I've seen some folks say that if this weren't a remake of Halloween and just some new slasher movie, more people would like it. Can't say that I agree. Again, Zombie does have a good directorial eye, but he stinks when it comes to script. His screenplay is littered with dumb lines and even dumber characters. At one point, Michael Myers literally holds a character's photo up in front of someone as if he's a private detective in some old film noir. What the hell is this? Also, even though the film is set in the suburbs, everyone here behaves as if they're hillbillies running moonshine down from the mountain, because that's the only type of character Zombie knows how to write. If he was making a movie set during the French Revolution, all the characters would still behave like inbred rednecks. The most distracting thing Zombie does, though, is pepper this film with familiar B-movie faces, mostly in small walk-on roles. It serves no purpose beyond getting horror movie fans to point at the screen and say "Oh, there's Clint Howard!"
7. The Wicker Man
How it fails to understand the original:
Oh boy, where to even start? Robin Hardy 1973 The Wicker Man is an eerie, sun dappled bad dream, ominous and surreal. Neil LaBute's 2006 remake is...none of those things. LaBute takes Hardy's film and turns it into some sort of gonzo thriller, with Nicolas Cage running around the movie as if he's on a coke binge, he's just run out of coke, and he can't find the car keys he needs to go drive somewhere to buy more coke. Oh, there's something about bees too, which is...whatever, it doesn't matter.
Why it's bad on its own:
While The Wicker Man certainly isn't a good movie, I will admit I kind of admire of off-the-walls goofy it is, and how committed Cage is to his freaky deaky performance. That said, the film is a mess, and while in later years Cage and LaBute have tried to claim they were intentionally trying to make the movie funny, I'm not buying it. The central mystery here, with Cage looking for a missing girl, never works. And as fun as it is to watch the actor behave like a loon, it just doesn't really make sense in the context of the film.
6. Black Christmas
How it fails to understand the original:
Bob Clark's 1974 Black Christmas is a moody, grainy 70s creeper that never lets up in terms of suspense and tension. The 2006 remake from Glen Morgan features a lot of close-ups and loud, banging sounds on the soundtrack. Morgan's 2006 remake trades on Clark's chills for gore, gore and more gore, as well as some really stupid nonsense thrown in for good measure. In one scene, a character takes some cookie cutters to someone's skin and then turns the skin pieces into Christmas cookies. It's enough to make you yell, "Hey, what the hell is this?" to the screen.
Why it's bad on its own:
This is the only film I've ever walked out of. I saw Black Christmas on Christmas Day in 2006, and as I sat there, watching this mess unfold, I thought, "There's probably something better I can be doing with my holiday." And left. I eventually finished the film on home video, but that didn't improve things. This movie is poorly pieced together, with the editing from Chris G. Willingham nearly incomprehensible. Anytime the film wants to get from one scene to the next, it uses a big, loud smash cut, complete with sound effects. It's like someone creeps up behind you and blows an air horn in your ears with each scene change.  
5. Poltergeist
How it fails to understand the original:
Tobe Hooper (or maybe Steven Spielberg, depending on who you ask) created one of the most memorable, enjoyable haunted house films of all time with 1982's Poltergeist – a loud, fun, effects-driven ride that puts a suburban Californian family through hell. Then there's the 2015 remake, which has almost the same plot yet none of the charm. The original film worked so well because it felt almost believable – we related to the down-to-earth family at its center and felt for them because we thought, "Hey, that could be us. Coffins with skeletons could be bursting up through our floors!" The remake doesn't manage to convey this, at all. The family never seems like a family – they seem like actors hired to do a job.
Why it's bad on its own:
Sam Rockwell is a wonderful actor, and he works hard to make all this work, clearly ad-libbing a bunch of off-the-cuff remarks throughout. But it's not enough. The film is as lifeless as the ghouls that haunt its frames. There's nothing even slightly scary here, or memorable. I dare you to recall any particular scene from this film. Go ahead. I double dare you. You can't. This film unfolds at a steady, unremarkable pace, then the credits roll, and it almost instantly vanishes from your mind.
4. The Fog
How it fails to understand the original:
John Carpenter's 1980 The Fog is a spooky, moody ghost story, dripping with atmosphere and that shaggy dog charm that blankets all of Carpenter's films. Carpenter himself wasn't even that thrilled with it when it came out, but it's since grown into classic status. Since all Carpenter films seem doomed to be remade, and since Carpenter himself loves getting the remake paychecks, a remake of The Fog hit theaters in 2005, and boy is it bad. The film de-ages the entire cast, who all seemed like over-the-hill adults in the original but here look like they're barely out of high school. It trades Carpenter's simple, in-camera effects for dumb CGI fog. Also there's a scene where a monster hand comes out of a train and turns an old woman into a skeleton. How spooky! Wait, no, I mean, dumb.
Why it's bad on its own:
Pirate ghosts who come out of an unearthly fog to seek bloody vengeance should be an easy home run, as far as storytelling goes. But this remake doesn't even get that right, and instead adds some stupid nonsense about reincarnation to the plot. All of the actors here are dreadful, especially Tom Welling, who is like an used plank of wood from Home Depot dressed in a flannel shirt.
3. A Nightmare on Elm Street
How it fails to understand the original:
Wes Craven's original A Nightmare on Elm Street has by now become a horror classic, and rightfully so. Craven took a rather brilliant idea – people being stalked and killed in their dreams, which in turn kills them in the waking world as well – and created a nasty boogeyman in the process. The Freddy Krueger Craven created is an odious, unsympathetic monster. The 2010 remake, for some very strange reason, thought it would be a good idea to make it seem like Freddy was a sympathetic character to be pitied, only to change their mind at the last minute. It doesn't work, at all. And try as he might, Jackie Earle Haley just can't make his take on Freddy scary.
Why it's bad on its own:
Rooney Mara is a great actress, but hoo boy does she stink in this movie. Mara later said she hated working on this film so much she almost quit acting afterward, and I can believe it. Her take on ultimate Final Girl Nancy is an utter snooze. I'm not sure if, since the character is supposed to be sleep-deprived in a quest to avoid Freddy, Mara intentionally played her as if she's a zombie, or if the actress was just so bored with the role she didn't even bother to emote. Either way, it doesn't work. On top of that, director Samuel Bayer films the whole thing very bluntly, with no real style or grace.
2. Cabin Fever
How it fails to understand the original:
I'm not even a big fan of Eli Roth's Cabin Fever, and a lot of it – particularly the "humor" – has aged badly. Still, I appreciate that Roth was going for something, and was working hard to create a memorable, gross-out horror flick. For some strange reason I can't quite figure out, Roth's 2002 film was remade in 2016. Roth may not be that great of a filmmaker, but he's a damn auteur when compared to the 2016 remake's director, Travis Zariwny. Have you ever seen those videos on YouTube where someone takes a movie trailer and re-shoots it in their garage, using cardboard sets and mops for wigs? That's what this film feels like – like Zariwny watched Roth's film and said, "Let's remake that, but with no budget or skill. Even the gross-out material, which is pretty much the only good part of the original, is watered-down and poorly put together.
Why it's bad on its own:
Like I said, I'm not a big fan of the original Cabin Fever, so I was more than open to letting this film try to stand on its own. But it doesn't. The cast, made up of actors you've never heard of and will likely never see again, are all uniformly awful, and ill equipped to carry your luggage from a hotel front desk to the elevator, let alone a movie. Shot with all the grace of a local used car lot commercial, this is one of the ugliest looking movies I've ever seen. It's as if Instagram invented a filter called UGLY BULLSHIT and they ran this movie through it.
1. Day of the Dead
How it fails to understand the original:
Oh dear. What...what is this? What is this ugly, poorly acted, incompetently directed dreck? Is this some sort of prank? If it is, it isn't funny. After the surprising success of the Dawn of the Dead remake, a Day of the Dead remake seemed inevitable. And we got one, in 2008, and it's embarrassingly bad. As is the case with all of George Romero's zombie films, the original Day of the Dead was more of a reflection on humanity and all its terrible flaws than a portrait of zombies, but the remake just wants to throw a bunch of over-the-top ghouls in your face for 86 minutes, until you have a headache and want to take a nap. The original film had Bub, one of the most interesting zombie creations to ever grace the silver screen – a zombie slowly learning to be human again, sort of. The remake gives us Bud, a character who keeps stressing he's a vegetarian, which is all a set-up to have him be against eating humans once he becomes a zombie. Oh, how funny. Except, not at all.
Why it's bad on its own:
Does this garbage even qualify as a movie? I don't think it does. It's more like an Adobe After Effects test reel set to music. There's nothing even remotely enjoyable about this. It's neither good nor "so bad it's good." It exists solely to cash-in on its famous title. No thought, or heart, or energy went into making this movie. No one was passionate about it. No one sat down, read this script, and said, "This is going to be a great movie." It's the bottom of the bottom of the barrel, and it should be ashamed for even existing. Have I mentioned this movie is bad?